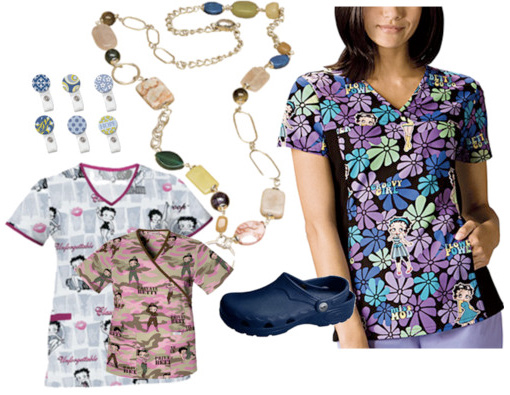 From the Spring 2010 issue of Scrubs
Let's be honest — traditional nursing uniforms don't necessarily flatter every figure, and they don't always have a lot of personality. That's why character scrubs featuring images from Hello Kitty to Scooby-Doo are all the rage for nurses right now. But there's one icon that captures the imagination more than any other: Betty Boop.
The fact that Betty is overflowing with personality appears to be one of the reasons scrubs showing her image are a top-selling item. Nurses relate to her cute looks and saucy attitude. Wearing her character on their scrubs lets nurses send a subtle message to coworkers and patients about how they really see themselves.
Betty's changing style
This passion for Betty is nothing new. Her history as a well loved cartoon character dates back to the early 1930s when she starred first in print and then in short animated films. Her style has changed many times over the years, showing her versatility as an entertainer who can adapt to any era. These days Boop isn't just wearing her signature flapper mini-dress; now, she can be found sporting army BDUs on pink and brown camouflage scrubs, like the one shown above. So, it's clearly more than just her pretty face and stunning hourglass shape that draw you in. It's Betty's whole feisty, bubbly persona that appeals to both healthcare staff and patients. As nurse Tamika Broaden says, "I love her spirit and she's a bombshell."
Nurses speak out about Betty Boop scrubs
Nurses like Traci D. McCain are also up front about why they adore this stylish lady: "I love BB because she's cute, and she shows that even with her character wearing scrubs, you can still be sexy." Marianne Knouff agrees: "Sexy innocence! Love Betty Boop!" Pairing solid bottoms that match a subdued but feminine color from the printed top is one way to wear Betty scrubs without overwhelming the eye.
But is Boop really a character that's well suited to the somber atmosphere of a hospital and the serious profession of saving lives? That depends on who you ask. For many nurses, wearing an eye-catching top is all about offering a higher level of care to their patients. Part of Betty's classic and unforgettable appeal is the magic of bringing a familiar face to a patient's bedside during a traumatic time.
As nurse Kelly Schmidtbauer notes, "I work at the VA and the veterans love her!" Another nursing professional comments on the power of distraction to ease discomfort: "My older patients always start talking about remembering Betty Boop, and it makes for a fun conversation and gives the patient something else to think about, instead of worrying about what is going on with them."
Betty Boop just for you
With so much to love about this grand old gal, it's no wonder scrubs manufacturers are bringing back "boop-boop-a-doop" style in a variety of sizes and print patterns. These tops are available in both 100 percent cotton and poly/cotton blends with details like roomy patch pockets to provide the storage space every nurse needs on the job. This means there's no sacrificing comfort or function to get the latest in scrubs fashion.
Does Betty Boop's character speak to you or is there another old-time favorite who has stolen your heart?