Nurses react to HawthoRNe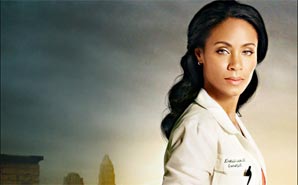 A CNO who gets her hands dirty?  Must be a Hollywood invention.  In fact, it is.  HawthoRNe, which premiered June 16th on TNT, features Jada Pinkett Smith as Chief Nursing Officer Christina Hawthorne. The show isn't as controversial as Nurse Jackie, but it still has lots of nurses talking (especially about glaring medical errors…).
Yes, tinseltown may be taking its usual creative license, but the HawthoRNe audience still seems thrilled to see a nurse who not only leads a team of nurses, but also rolls up her scrubs sleeves and actually performs bedside care.
Apparently the notion of a hands-on CNO isn't pure science fiction.  Blogger RehabRN recently commented on Emergiblog:
"I worked with a CNE like that. She was (and still is) that kind of person. She saw when things were busy and answered call lights, acted as the unit secretary and took people to the bathroom, suit on for an exec meeting or not, isolation or not. If we needed help and she couldn't get it, she was in there.  I would work for her again in a second."
So where does this leave this summer's nurse show rivalry between Nurse Jackie and HawthoRNe? Here's our opinion: Although the writers at Nurse Jackie have molded their title character as sometimes saint, sometime sinner, the show itself may very well be sharing its dual identity with darling real life nurse-pleaser, HawthoRNe.  One only has to look at Nurse Jackie's headline-making premiere which had nurses up in arms against the negative image of nurses created by the show.
While Nurse Jackie's title character is a tough pill to swallow, HawthoRNe may have imagined the kind of do-it-all nurse that even real nurses have rarely seen before!  Us Scrubs editors are saying nurses will watch HawthoRNe and Nurse Jackie…but for entirely different reasons! Below are the latest highlights of how nurses have been weighing in on HawthoRNe vs. Nurse Jackie all over the internet.
FROM TWITTER:
muckersdream tweets:
Jada Pickett-Smith shined on her new show, Hawthorne. Show was eclectic, not predictable, kept me interested, will watch again.
nightnurse tweets:
Saw glimpses of Hawthorne while @ work. No conclusions yet. Still kinda shocked to see a nurse on tv w a brain and doing actual work.
bthenextstep tweets:
Nurse Jackie vs. HawthoRNe: The Battle of the TV Show Nurses Continues http://ff.im/3sYyA
BLOG BUZZ:
From HawthoRNe – You GO Girl! – Emergiblog
"…In all my decades, I have never known a Chief Nursing Officer to don scrubs and do patient care.
And Christina Hawthorne does it all!
Unrealistic?
Yeah.
Am I going to watch?
Absolutely.
HawthoRNe has personal problems that don't include drugs or sex.  She is widowed, single mother and her teenage daughter is a pain in the ass.  She, like her Showtime counterpart, is a strong woman who isn't afraid to break the rules.
And as so many commenters pointed out in the great discussion following my "Nurse Jackie" post, no television show is going to be perfect in its portrayal of any profession (my hubby used to rail at "LA Law" every week!).
So, you can call me naive, an idiot, a pollyanna, out-of-touch, crazy or whatever name you like…
I'm taking the more idealistic portrayal of nursing offered by "HawthoRNe".