Nursing is one of the most dangerous jobs in America. Healthcare providers face more risk every time they treat a new patient than most construction workers. The news has been full of stories of nurses getting attacked by the people they are trying to help.
We asked millions of nurses all over the country whether they have been victims of abuse. These are just some of their stories:
Confused and agitated patient threw me across the room causing me to crash into the over bed table…
Laurie
The sad thing is, while physical abuse leaves it's marks, so does the verbal abuse. We didn't study to become someone else's punching bag, whether that be verbal or physical and yet it happens on a daily basis.
Dejauné
A psychiatric patient once grabbed my throat really firmly. Took me a while to get over it.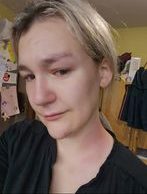 Gina
I was bitten by a resident! I was standing behind the high-back WC with my hands up on the sides of the head rest. This resident reached up with his right hand and grabbed my left hand, pulled my arm down and chomped down on my forearm. Had to go to urgent care as my skin was broken in two places. Tetanus shot, antibiotics, Motrin 800. Ironically it was on April 1st (of this year) but definitely not a joke!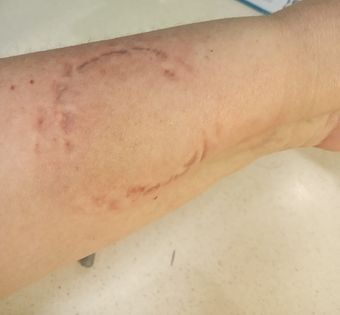 Kandi
This is my forever scar on my left arm 6 years after being bit by a mental health patient. His crushing jaws were locked on my arm for what seemed like eternity, until other staff arrived to assist in getting him to let go of my arm. No CPI interventions worked on him. My D-dimer was positive due to muscle damage & took a long time to heal.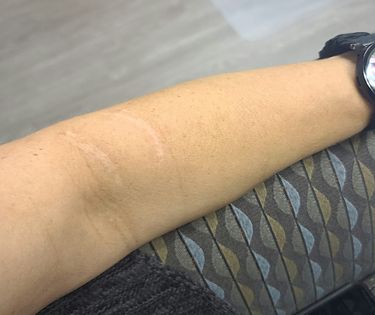 Wendy
The abuse towards nurses does not always come in the form of a visible mark.
Candice
I was grabbed and slammed against a wall by a patient, hurt my back, my neck, my hip… nobody cares. Apparently, he has the right to do that?.
Vanessa
I work with young people with additional support needs, and this was courtesy of a 15 year old girl. Being bitten is the worst! My hand hurt for weeks!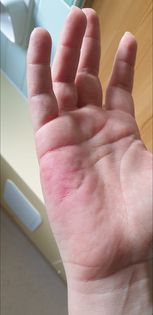 Rxcheal
Working on a psychiatric unit, punched in the face by a psychotic patient for telling them their insulin wasn't due at 2 in the morning when their blood sugar was only 88. Orbital fracture and concussion.
Amanda
Pepper sprayed by a patient at point blank range. Unsure where she got it from. Could have been in a body cavity or she got it from a security guard somehow. I developed a chemical burn on my tonsil and had recurrent infections in my throat.
Sydney
I had a patient who was in a lot of pain due to a poor healing wound on his left lower extremity. His pain was not well controlled despite having 2 strong narcotics on board and he was very unhappy with me because I was unable to obtain additional doses and/or increase. After explaining to him why the MD did not want to order additional medication the patient asked me, "Do you know how much pain I'm in?" and he grabbed my arm and dug his nails into my skin squeezing as hard as he could. I tried prying his hand off my arm but had no success and struggled for about a minute repeatedly telling him to let go.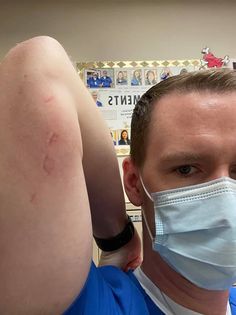 Cody
A patient during a cesarean section was acting violent. She reached through the drape and grabbed the surgeon who had an instrument in her hand and wouldn't let go. As we tried to free the surgeon from the patient's grip, she grabbed my thigh with so much force it felt hot immediately, she just held on and would not let go.

This was the next day. I went to occupational health to report it. They did not want the patient's name, they took no photos, I would say they laughed at me, but it was honestly just a chuckle ?.
Amanda
I got hit in the face with a full water jug by a confused old lady with post op delirium. She definitely did not want to take her haloperidol! Ended up with PTSD and couldn't return to work on the same ward. Best and worst job in the world!!
Brooke
Punch a bus driver? Go to jail.

Punch a cop? Go to jail.

Punch a nurse? Management: WHAT COULD YOU HAVE DONE DIFFERENTLY?
Bruce
Got attacked by a patient waking up from sedation…. he slammed me into the counter and blew my L4-S1 discs. I had to have a rod put in my back and a disc replacement. Scariest and worst time in my life.
Gabrielle
Kicked in the head by a patient. Ended up with 2 lesions on my brain from it and post-concussion syndrome.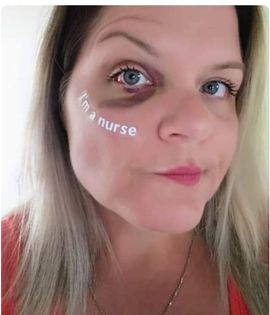 Jo
I was in a patient room and heard yelling out in the hallway. I stepped out just in time to get pummeled to the floor by a psychotic patient. My arm hit the corner wall. Bruising from upper arm to wrist and some swelling but kept on working.

Jessica
I was attacked by a psych patient while attempting to deescalate a situation between 2 patients. Needless to say, his legal status changed from involuntary hold to inmate.
Micah
Patient wanted to go to the hospital because she couldn't have any more pain meds, so she went to the bathroom and tried to put herself on the floor instead, pinned my arm between her butt and the toilet and broke my arm.
Samantha
Punched in face by an adolescent psych patient. No consequences even though I filed a police complaint. This happened in 2015.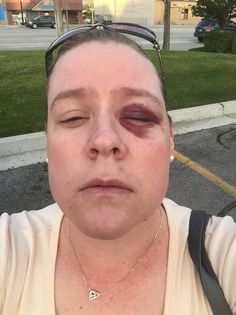 Kimberly
Pt got a hold of my hair pulled me toward her knees and ripped my hair out at the start of my shift before security could get there. This happened AFTER the patient spit in my coworker's face and grabbed hold of his scrub top.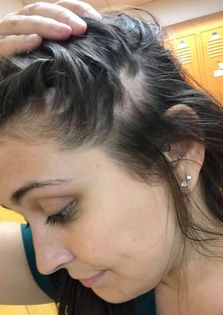 Corrine
Our heart goes out to all the nurses that have experienced abuse on the job. No one should have to go to work fearing for their health and safety.
These responses have been edited for length and clarity.