Nursing student finds words of encouragement from anonymous veteran nurse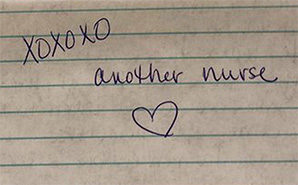 Whether you are currently preparing for the NCLEX or took it many years ago, chances are you remember the frustration that sometimes came with long hours spent bent over books. How would a surprise bit of encouragement from a veteran nurse have felt at those times? One nursing student recently got just that kind of surprise.
A student flipping through an NCLEX study guide at a Barnes and Noble in South Burlington, Vt. came across an envelope containing a handwritten note of encouragement tucked into the pages.
"I'm assuming that if you're thumbing through an NCLEX book that you're probably nearing the end of nursing school," said the note, which was posted on Reddit. "I want to start by saying that you should be so proud of yourself! You've worked so hard to get here, and I promise you, it's so worth it. I've been a nurse for 12 years and can't imagine doing anything else."
The note went on to advise the future nurse that "the first year or two out of school is the hardest. But don't give up and remember why you decided to become a nurse in the first place."
Towards the end of the note, the reader is advised to "grab some coffee and study for the NCLEX." This advice was made easier by the inclusion of a $10 Starbucks gift card that also was tucked into the envelope. So sweet!
What do you think about this story, nurses? Would you ever do something like this to help out a student? And students, if you're facing the NCLEX soon and aren't lucky enough to come across a note like this, you can at least get a little study help from our NCLEX practice quizzes!