Models may flounce down the runway in barely-there garments, and plenty of starlets opt for peekaboo cutouts to show off their toned midriffs, courtesy of daily sessions with personal trainers, natch. Then there are style-bending trendsetters like the Kardashian/Jenners who walk out wearing nothing but a long tee, a waspie, and thigh-high stilettos.
For the average working girl, a bit more structure, support, and coverage are needed, especially for educated professionals in medical fields, who want to be taken seriously. Still, you don't necessarily want to resign yourself to the staid scrubs of old, with their boxy, masculine proportions and scratchy, utilitarian textiles. Isn't there a happy medium that offers practical appeal in a modern, stylish, and feminine form?
The answer is a resounding yes, thanks to forward-thinking brands like HeartSoul that infuse every garment with trendy features and fabrics, along with much-needed functional attributes that will get you through every workday, no matter how long or demanding. Case in point: ponte knit.
Thicker than standard jersey knit, this double-knit fabric offers the structured support hard-working healthcare professionals prefer, paired with flexibility that facilitates all-day movement without losing shape. It's warm, comfortable, versatile, and perfectly suited to the fast-paced work environment medical personnel experience day in and day out.
How can you get your hands on the ponte knit scrub styles that help you to look and feel your best during doubles and beyond? HeartSoul has you covered with their new Love Always collection.
HeartSoul Spring '19 Love Always Collection
This mini capsule collection for spring offers a slate of must-have pieces that work great together to create a complete outfit, or act alone as a classic base that you can add to with complementary garments in flashy colors or bold prints. In short, you have easy options for grab-and-go, or you can mix-and-match these wardrobe staples with other pieces to create your statement style.
If you already own HeartSoul tops in jewel tones and flower prints, they'll pair perfectly with the Dreamboat Cargo pants and Precious Zip Up from the new collection, while your flare leg Heart Breaker Drawstring Pant in glam fuchsia and your cute, tapered Joggers in wine complement the Cherished V-Neck like a dream. The classic appeal of the Love Always collection even works well with other scrub brands, thanks to simple styling, powerhouse neutrals, and sleek embellishments that boost your style cred. Let's take a closer look at the individual pieces that make up this mini capsule collection.
Dreamboat Cargo
The Love Always Dreamboat Elastic Waist Cargo Scrub Pant is the basic pant you need now, with an attractive and functional modern fit, complete with tapered legs featuring side slits at ankles for a bit of extra panache and a fit that pairs with any shoe. Front zip pockets feature gold hardware to elevate your statement style, and two side cargos and a back pocket ensure your utilitarian needs are met.
Stretch fabric, back knit panels and a knit elastic waistband are comfort incarnate for easy, all-day wear that won't sag or drag before your shift is through. Available in timeless pewter, black, or navy.
Cherished V-Neck
There's no style more flattering than a sexy V-neck, made work appropriate thanks to gold zipper detailing that gives you total control of the angle of plunge. Gold zippers also embellish front pockets with a flattering element designed to accentuate the feminine form.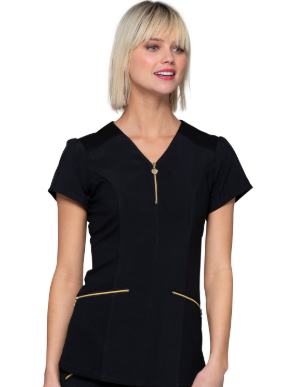 Stretch, side knit panels add comfort and movement to this top, and side slits ensure the hemline won't ride up while you're making your rounds or managing a busy waiting room. Princess seams front and back add tailoring and shape that make this stand-out garment incredibly attractive. Available in pewter, black, or navy.
Precious Zip Up
No outfit is complete without a finisher piece to polish it off. Enter the Love Always Precious Zip Up Scrub Jacket, in black or navy with signature gold hardware at the zip front and zippered pockets, plus heart charm zipper pulls. The simple cut and sporty, Mandarin collar make for easy pairing with any pant and top combo, and princess seams front and back create the slimming fit every woman can get behind.
Your work wardrobe can only benefit from sleek and simple staples like the pieces in HeartSoul's Love Always collection, especially with the addition of ponte knit fabrics that flatter your figure and hold up well under the stresses of daily wear.
View more of the fantastic collection at www.HeartsoulScrubs.com and exclusively at Scrubs and Beyond.