Our 10 favorite nurse-themed calendars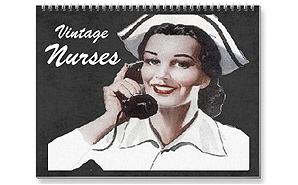 A nurse without a calendar is like…a fish without fins? A snowman without snow? Actually, a nurse without a calendar is very likely to forget to come in to work, particularly if she has an ever-changing schedule. So what types of calendars are there that might appeal to nurses? We at Scrubs went on a calendar hunt and this is what we brought home for you.
Wall Calendars
Vintage is back! Whether it's because of the popularity of the hit TV show Mad Men or it's just that we're getting older and want to look back, vintage everything is coming back—from trendy dresses to pop art. So, why not a Vintage Nurses calendar? The advantage of this calendar is that it can also be personalized.
For a dose of humor and some nice pictures, many nurses like the Nurses: A Year's Dose of Humor 2011 Wall Calendar. This monthly calendar has been published for a few years to great reviews.
If you like bold colors and photos, you may enjoy the Nurses Light the Way Calendar. It's customizable, and the beautiful color palettes and art make it worth saving at the end of the year.
Maybe this is more for the radiologist, but we couldn't help but grin at this X-Ray Skeleton themed calendar.
Of course, we can't forget the student nurses in our lives—and the calendar makers haven't, either. This 2011 Student Nurse Calendar has a unique NCLEX-style design.