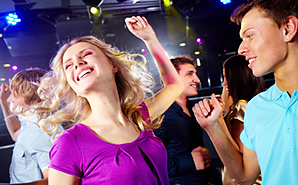 Last year I wrote my first post about how there was no such thing as "Nursing Student's Gone Wild!"  I told you all about how I spent my spring break finally cleaning up all the crap that had accumulated in my room over the 10 weeks of the quarter and how I got the chance to do more than just "essential" laundry.  It's true, that is the wild and crazy life of a nursing student.  That is, until you're about to graduate!
My class has over 50 students, and while we're not all the best of friends, I like to think that, for the most part, we know how to have a good time, and we know how to do it together.  So we couldn't let grad-week come and go without a celebration. We planned a night our about the town the night before our cap-and-gown graduation, and let me tell you – we know how to go out with a BANG!
It was an amazing night full of fun, laughter, and a LOT of dancing!  Even the most quiet of our students were out dancing like crazy dancing people! But the most amazing and memorable part of the night was the fact that we were all there as one, we were a graduating class. We weren't there as one "clique" or in groups that didn't really talk to each other, we took over the whole place!  We were all there for each other, with each other, and we all had the most amazingly crazy, wild time – TOGETHER.
Nursing school is always about the books, the classes, the skills, the studying, but in the end, it's also about the relationships that have forged on in all that turmoil. It's about the friendships that were created, even in the most unlikely circumstances. And when you're about to graduate and go off on your own in the world, it's about remembering that you have friends that were there for you throughout the whole thing, and who will keep standing by you in the months to come!