It's officially the holiday season! There are gifts to buy, copious amounts of food to make, cards to write and some sure-to-be crazy work shifts to get through. To help you decompress on the job, consider outfitting yourself in a fun holiday scrubs top! Any time you're stressed, you can just look down and feel the warm fuzzies.
If you're in the market for a flattering holiday scrubs top, we've rounded up our five favorite styles. Instead of going the traditional route (you can see those picks here!), we've opted for holiday- and seasonally-inspired tops. Let's go shopping!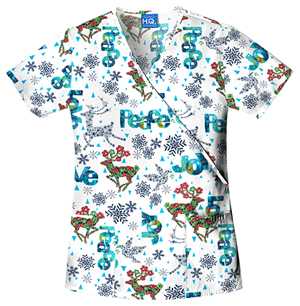 Reindeer, "Joy, Love and Peace" and snowflakes are everywhere on this sweet slim fit, mock wrap top. Featuring neck binding, patch pockets and side vents, we think this busy yet understated holiday top is gorgeous. (Cherokee.com)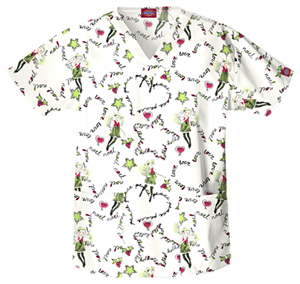 Another top featuring the words "Peace" and "Love," important throughout the year but especially considered during the holidays. We love the greenery and whimsical touch of this top. A classic missy fit V-neck, it features two patch pockets and side vents. (Dickies.com)
How cute is this penguin-adorned scrubs top? The classic missy fit top features a stylized V-neck with piping detail, a front yoke, patch pockets, back darts and side vents. (Dickies.com)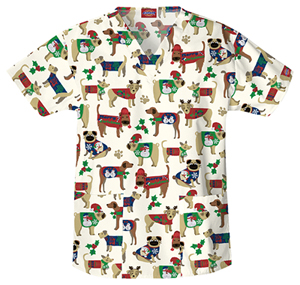 Who doesn't love a scrubs top literally called "Dog Gone Holidays"?! Displaying a slew of dog breeds in classic holiday garb, this missy fit V-neck top features two front patch pockets and side vents. (Dickies.com)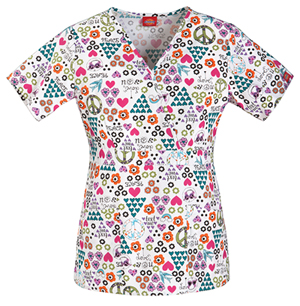 Yes, more peace signs. But can you ever really have too much peace? While the top isn't the traditional colors of the holidays, the green hearts look like little Christmas trees. Good enough for us! The missy fit mock wrap top features bust darts, two slanted patch pockets and side vents. (Dickies.com)
In the comments below, tell us all about your favorite holiday scrubs tops, where you got them and how your hospital's scrubs policies have affected your scrubs choices!
Sponsored by Cherokee Uniforms