Sponsored by Cherokee Uniforms
I have a confession.
I'm a Registered Nurse, but my patients aren't the only ones who need to be saved. Every week when I go to work at the hospital, I'm drowning. I'm literally suffocating. No, I'm not drowning in doctor's orders, or suffocating from the intolerable odors from my patient's rooms, I'm suffocating inside of my own SCRUBS.
In my six years as an RN, my "petite" scrub pants and tops have been oversized and lack form-fitting material & design. Sometimes I feel as if I'm wearing a parachute rather than an outfit.
Although scrubs are intended to make me look like a skilled medical professional, I actually look like a disheveled youth who gets dressed in the dark.
Every day, for the last six years, my patients and other staff members have given me a hard time. They often ask "why don't your clothes ever fit? They are falling off of you!" It's not like I don't look for scrubs that fit, I do. But they have been nearly impossible to find in my opinion. After years of searching, the point of acceptance has kicked in and I started answering back "because scrubs aren't made to fit people like me…"
Boy, was I wrong.
You see, I'm very petite in stature at a mere 4ft 11 and 95 lbs. And I'm not the only nurse with this issue of oversized scrubs.
According to an article written by the Health Services Research, nursing shortages have caused aggressive recruitment of nurses from abroad. The United States is actually the largest importer of foreign-born nurses. That being said, in the year 2000, close to a third of the foreign-educated nurses in the US were from the Philippines. The second largest source of foreign-born nurses was the Caribbean and Latin America. This number of foreign nurses is still growing.
So what does this have to do with scrub sizes?
Well, the average body size of women in these specific countries is drastically lower than the size of women all over the world. According to averageheight.co, the average height of Filipina women is 4'11. The average height for Caribbean women is 5′ 1″ and Latina women are: Columbia 5′ 1″, Brazil 5′ 2.5″, Bolivia 4′ 8″, Mexico 5′ 1″, Peru 4′ 11.5″, Guatemala, Chile 5″ 1.5″, Argentina 5′ 3″, Paraguay 5′ 2.", Venezuela 5′ 2.5″, Uruguay 5′ 2.25″, and Cuba 5′ 1.5″
These foreign-born nurses who live & work in the US are just one of many groups of petite nurses who share my struggle.
So where are the petite scrubs?
Well, I've found a few that will transform your work life forever.
Size: XXS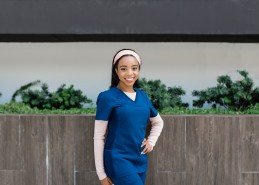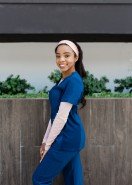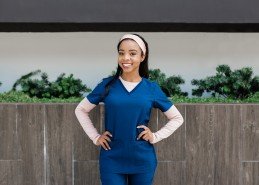 Pros:
Big pockets in the front of the top
V-neck allows for elongation of neck
Many big pockets on the pants,
Elastic on either side of the top giving a nice form for small frames
Small shoulders/sleeves making it look more feminine on small bodies
Elastic waistband so my scrub pants fit snug on the hips, no drawstring but the elastic band is more than enough to keep the pants up on small people
comfortable fabric
Cons:
Prefer a slightly shorter cut for the shirt (I have a short torso)
Size: XXS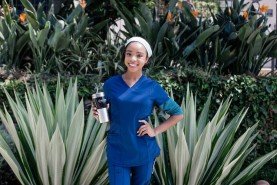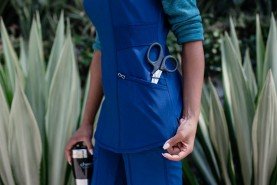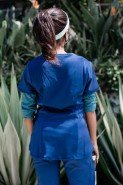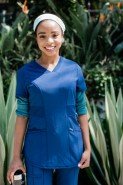 Pros:
Pockets of all different shapes and sizes on the shirt and scrub pants
Elastic just above rib cage giving shape to the scrub top
Elastic waistband on pants along with drawstring
Cute double thread embroidering
V-neck which elongates the neck making you look taller
Zip up pant pockets
Soft material that feels great
Cons:
Length of the top is a little long for me because of my short torso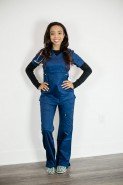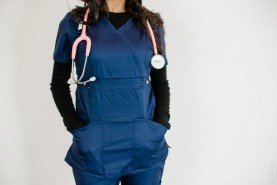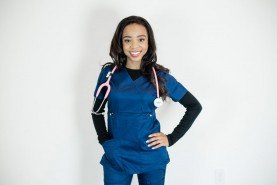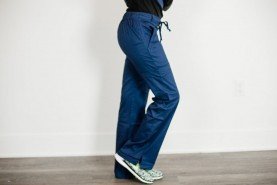 Pros:
Best fitting Cherokee workwear scrubs for me
Perfect length and fitting top for short torsos and petite frame
V neckline and still looks like the general, professional scrub appearance
Buttons across waist giving a slim waist
Great length pants with slit, pants don't drag, flared leg isn't overdone
Large front top pockets
Cons:
There you have it, my first petite scrub pants and tops review! Feel free to check out the scrubs in the links below and tell me what you think!
With love from the Pacific,
Pacificpetite, @pacificpetite on Instagram