Pop culture: Carla from "Scrubs"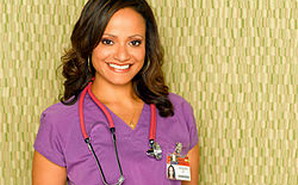 Yes, they're hard to find — but there ARE some depictions of nurses in pop culture worth celebrating. One of them is the awesome Carla Espinosa from Scrubs. Played to perfection by Judy Reyes, Carla was, dare we say, smartest of all the staff members at Sacred Heart Hospital, including the doctors, who took up nearly the entire rest of the cast.
Romanced by and eventually married to surgeon Turk, Carla was the head nurse in her department and heavily assisted the doctors with both advice and patient correspondence. Time and time again she proved to be an asset to the staff, catching things they never noticed. After the birth of the character's second daughter (with Turk), she becomes a stay-at-home mom. For this reason, Carla only appeared in the first eight seasons of the show, sitting out the final ninth.
Carla is given a rich backstory. She is 36 (as of the fifth season), from the Dominican Republic but raised in Chicago and was raised by a single mother. She loves giving the staff personal advice and is almost always right–whether they want to hear it or not. Reyes has said in interviews that she's especially proud of the way her relationship with Turk was portrayed. They start dating in the first season and stay together through the entire course of the show (despite a slight hiccup in season four, fixed with therapy and frank discussion), a real rarity in sitcom TV land.
Our favorite part of the whole thing? Reyes has said that her inspiration for Carla was her sister, who is indeed an RN. Upon seeing the show for the first time, her sister exclaimed, "You stole my character!"
Source: DVD extra feature interview (via YouTube)