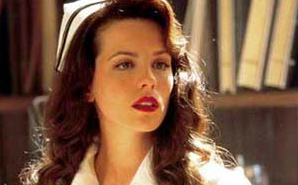 Throughout the years, there have obviously been many nurse characters in both film and TV. Sometimes the acting is terrible or maybe the way the character is written is insulting or just off-base. But every once in awhile, even if they don't get it totally right, filmmakers and actors are able to craft a decent nurse character that we actually like! And if the character is important, nice and positive? All the better.
In order to show our appreciation for the good guys, over the next few weeks we're going to highlight a few of our favorites. If we miss any of yours, be sure to speak up in the comments!
First up is Evelyn (played by Kate Beckinsale), a United States Navy Nurse in the film Pearl Harbor. Not only is Kate a gorgeous actress who really nailed her American accent (Kate is British), Evelyn is portrayed as a strong, skilled and sweet nurse. Sadly, her love interest is thought to have been killed in action overseas, and both Evelyn and Rafe's childhood best friend Danny (Josh Hartnett) are re-stationed to Pearl Harbor, Hawaii.
It's here that Danny and Evelyn fall in love and get pregnant… right before finding out that Rafe is actually alive. Before anyone can really sort out all that's happened, the Japanese attack Pearl Harbor, leaving 2,402 Americans dead. The scenes depicting the attack and subsequent days show Evelyn (who, remember, is pregnant) tending to the needs of hundreds of wounded soldiers. She works tirelessly, saving as many lives as possible while in the middle of her own soap opera of the heart.
We won't ruin the end of the film for anyone who happens to have not seen it yet, but we will say that we love the way Evelyn handles everything that gets thrown at her in the film–both personally and professionally. In fact, all of the nurses in the film (which include characters by Jennifer Garner, Jaime King and Sara Rue) really knock it out of the park.