Pop culture: Morgan Tookers from "The Mindy Project"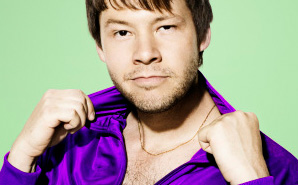 Whether or not you've been watching The Mindy Project (but, seriously, if not–get on that, people!) you likely cracked a smile at the photo to the left. And if you watch the show, that smile is just a small reminder of the chuckles and giggles gained from watching character Morgan Tookers interact with, well, anyone. He plays (you guessed it!) the main nurse at a small gyno practice (where Mindy is a doctor), and the way in which he lands the job and cares for patients is both awesome and truly hilarious to witness. For us, he's one of the main reasons to watch the show.
Morgan (played by comedian Ike Barinholtz) is easy to write off as a goofy portrayal of a nurse (he has a tattoo that says "no more stealing cars" on his stomach), but his interesting life experience and genuine approach to everything he does wins him over with the staff, who take a leap of faith in hiring him. Why? Well, as a teenager, he was incarcerated in Otisville prison for motor vehicle theft–hence the inked reminder to stay on the good path.
The show itself is filled with standout performances, but we swear that the character of Morgan isn't just our favorite because he's the nurse. He's our favorite because, well, he's hilarious!
Do you watch The Mindy Project? What do you think about the character Morgan?