Putting it together with fall separates
With summer temperatures hitting record highs, fall may seem unreachably far away. But you can still travel into the future in your mind—and visualizing your wardrobe for the upcoming season is always a fun way to do just that.
Traditional autumn colors are earth tones, but this year you might consider trying turquoise. It's cool enough for fall, but has a crisper feel than browns and greens. This rich blue looks great with black and white—two core colors that are always in season.
"Back to School" Time Means Plaid Behavior
BabyPhat's diagonal windowpane plaid is plain cotton, but appears to be woven with richly textured yarn and ribbon. This tartan top has a front lining that gives it a layered effect, which is great for slightly cooler weather. Turquoise or deep magenta scrubs pants would go equally well with this piece. The scoop neck keeps this soft top from seeming too angular, while the diamond pattern elongates and slims the torso.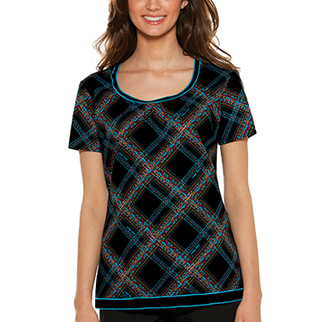 Next: Just "Leaf" It Be →