Real nurses: Our favorite Instagram images of the week…featuring male nurses!
We love seeing real nurses in action, especially when they look like they're having a good time! When we aren't connecting with you here on Scrubs, we're chatting with smart, opinionated nurses on our Facebook page or searching for fun nursing pictures on Instagram. No matter how stressful your jobs may be, we can always find proof that you work it for the camera sometimes! Here are five of our favorite recent posts.
@islander02
http://instagram.com/p/YGHG1kSxMe/
Roman, who lives and works in Guam, is an LPN who recently spent a night spring cleaning his nursing bag. We're both impressed and terrified!
We're not 100% sure what is going on in this photo, but we're intrigued. Watch out, Thailand!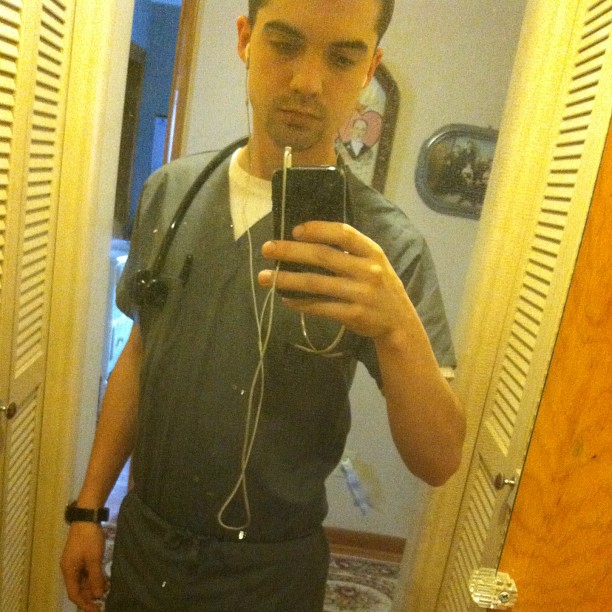 Sid is currently in nursing school and captioned this photo, "Got to do some shadowing the other day at a family practice. Glad I'm getting to experience different areas. WORK HARD, STAY HUMBLE." We love his attitude!
Love this look? Check out a similar scrubs top on Cherokee!
http://instagram.com/p/YMSg7vF84g/
We give this selfie an A+. In fact, Jeffrey Daniel and his fabulous green hair may have just become our favorite male RN in Salt Lake City.
Looks like we caught Los Angeles-based nurse John sleeping on the job. Don't worry, we won't tell. Night shifts will do that to ya! #isit7yet
Are you on Instagram? Taken any awesome team (or self) photos on a particularly stylish day? Share your looks on our Facebook page!
Sponsored by Cherokee Uniforms