Some folks invest in a Fitbit and run a marathon to support a good cause. Others set out to bake (and ideally—sell) 400-plus cookies outside of various school properties.
Then there was Patch Adams. Part physician, part comedian and part activist, this brilliant do-gooder found a way to give back by just clownin' around—literally. Armed with a knack for entertainment and the ever-iconic red nose, Hunter Doherty "Patch" Adams famously tapped into the power of humor to make the world a better place for its tiniest residents.
Hey nurses—sound familiar?
So we're pleased to announce that on May 21 at 8/7 C—the same "Patch Adams" approach will once again be in full effect for Red Nose Day, the culmination of a widespread effort to lift children in need out of poverty.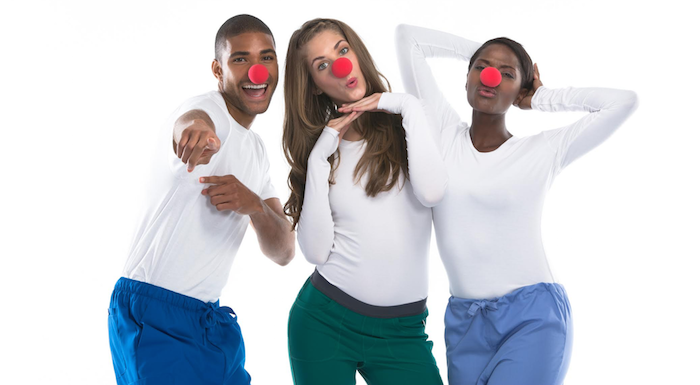 Image: Lionel Cassini | Models in Cherokee Scrubs
The inaugural event will take place on NBC as a three-hour television special (so gather your snacks!) featuring supremely spunky actors, comedians and musicians teaming up to deliver an entertainment potpourri of sketch comedy and musical performances. Interested? You can find more information about the event, and how to donate, here.
Oh, and the best part? All you have to do is tune in, sit back and enjoy the show! No running shoes or oven mitts required (unless, of course, that's your thing).
Sponsored by Cherokee Uniforms