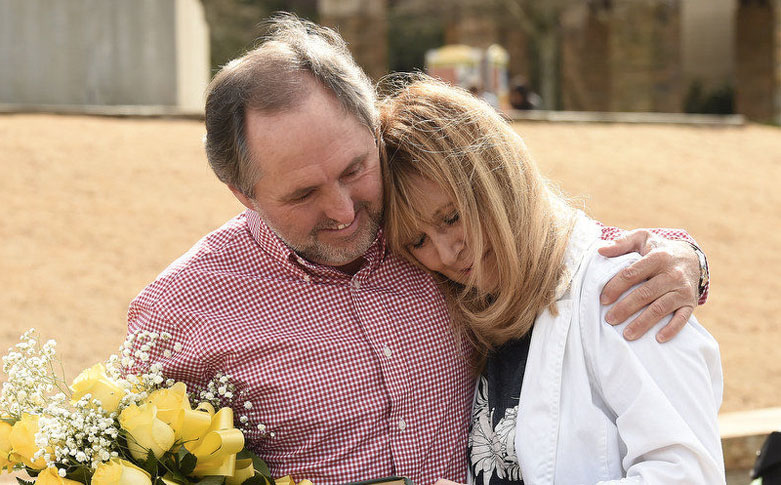 Joe Songer | Al.com
An Alabama man used the Internet to get back in touch with the nurse who took care of him 40 years ago when he had open-heart surgery as a 10-year-old.
After finding an old picture of himself with his nurse taken four decades ago, Gary Bentley went online to look for her. He had only the photo to go on and wasn't even sure of her name. But after the photo was posted on social media and later picked up by al.com, the mystery was quickly solved.
The nurse in the photo was identified as Kathy Henricks. She is still a nurse today, working in the cardiac unit at East Alabama Medical Center in Opelika, Ala. A meeting was arranged at an Alabama park, and recently Henricks and Bentley saw each other for the first time in more than 40 years.
"She went way beyond the duty of a nurse, with her smile," Bentley told al.com, explaining what caused him to seek out his nurse after so long. "I looked forward to it every day."
It turned out the care came at a crucial time in Bentley's life. When he and his six siblings were taken from an alcoholic, abusive father and placed in foster homes, doctors discovered that a hole in Bentley's heart hadn't healed.
Henricks, who was working part time as a nurse's aide at the time to put herself through school, said she didn't know about Bentley's family trouble back then. She said she was just providing what she has discovered is perhaps the most important part of her job.
"It's a lot of medicine, but it's a lot of compassion," she said. "If you don't have that part of it, then I think something has to be missing."
This reminds us of a video of the nurse who reunited 28 years later with a preemie she helped save.
Do you have any inspiring stories of former patients seeking you out? Tell us about it in the comments below!