How NOT to get hurt at work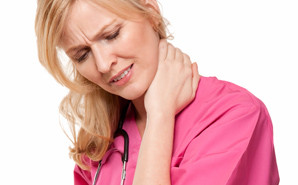 It's an alarming fact that unfortunately won't come as a surprise to nurses: Nurses and other healthcare workers are second only to firefighters in numbers of work-related injuries. One of the most common injuries is, of course, back pain from the physical demands of bedside care. So short of quitting her job, what's a busy nurse in pain to do?
In the Fall 2013 issue of Scrubs, we gave you the scoop on how to avoid muscle aches and strains. But preventative measures can't do much good if you don't have the right tools for the job at your disposal! If your workplace doesn't have proper lifting equipment and a safe patient handling program in place, exercise your right to speak up:
Check in with the employee safety committee to make your concerns known to management.

Check out the Joint Commission's new safety guidelines so you've got some ammunition to make your case.
Contact your local union if you're not getting any traction at work.
Nurses, have you ever had to speak up to increase safety measures on the job? How did it go? Share your experience and more tips for staying safe at work in the comments below.