Twists, trips, and ticks. They were all just part of the job for Abigail Cummings, RN, during her 2021 stint as a VIKAND nurse aboard the American Countess on the Mississippi River. Most of the time, however, it was smooth sailing for the 23-year-old nurse.
Treating passengers with ankle twists and scraped knees, which most incurred as they walked from the paddle wheeler to excursion buses, came as no surprise to Cummings because most of the passengers were seniors. Some were even centenarians. More surprising to her was that a tick had hopped on one passenger during a battlefield excursion in Vicksburg, Mississippi, but Cummings promptly plucked the tiny stowaway from the passenger's arm and tossed it overboard. "That was random," she says.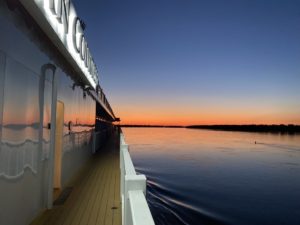 Cummings spent most of her time on the ship overseeing COVID-prevention measures. "My typical day started at seven a.m. when I reviewed the daily COVID testing sheet to see which excursion tour guides and bus drivers I needed to test that morning. They were not stationed on the ship—they live in the cities where it anchored—so it was essential for them to get tested before each excursion to ensure the safety of our guests and crew."
She added: "I also tested all eighty to ninety crew members every week. But I was able to spend some time socializing with guests and crew, and then spent the afternoons in the office checking inventory and doing the testing paperwork. Finally, dinner at seven p.m. and off to bed."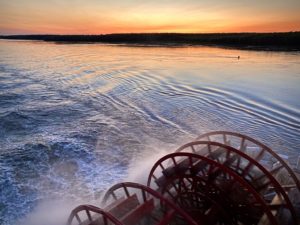 When Cummings signed on with VIKAND, which provides healthcare solutions to more than 200 cruise, superyachts, and shipping vessels worldwide, the Step-Down RN had just finished administering thousands of COVID vaccinations in California. So, dealing with the coronavirus was nothing new. She saw the VIKAND job posting on Indeed. "When I saw there was an opportunity to work on a ship and sail to different states, I decided to give it a try," she says.
In keeping with her training, she educated many of the passengers about COVID shipboard protocols, reminding them to mask up when social distancing was impossible. "Most of the passengers didn't have a problem with it," she says.
Cummings' duty aboard the American Countess as a VIKAND nurse last spring included six successive one-week sailings. A prior commitment last summer prevented her from working additional weeks; most VIKAND nurses serve for 12 to 20 weeks. They do so aboard river or ocean cruise ships or take land-based assignments at locations that include island resorts. VIKAND pays competitive salaries with benefits that include paid travel to and from the ship, single-cabin accommodations, and officer privileges. It's currently doing lots of hiring as the cruise industry roars back post-COVID.
"The main difference from being a land-based nurse is that you have to very quickly assess whether a situation can be addressed on the ship or onshore," says Cummings. "A doctor is on call in case of an emergency. Of course, another difference is that I was able to see the water meeting the sky every day, which created the most beautiful sunrises and sunsets. Nothing could beat the view, and I loved the silence on the top deck."
Cummings hopes to take another VIKAND shipboard assignment next year after completing some other travel nursing assignments.
If you are interested in finding out more about VIKAND and shipboard assignments, please visit our website www.vikand.com/shipboardjobs.