Salary: Top paying specialties–clinical nurse specialists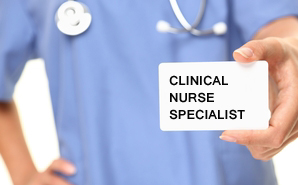 We're now in our fifth week running down the top 10 best paying nursing specialties. A little refresher on the top 4:
1. certified RN anesthetists
2. orthopedics
3. geriatrics
4. perioperative nurses.
Clinical nurse specialist (or advanced practice registered nurses)
Nurses in this field make between $57,000 and $104,000 per year and have a variety of specializations, including critical care and medical-surgical. It is a great opportunity for nurses who love research and who are up on their CEUs and have an MSN.
Why you might love this job: A recent study published in Nursing Economics showed that clinical nurse specialists reduce the length of stay for patients, save the hospital money and improve patient outcomes. If you're a nurse who's fired up to "make things better" from a bigger picture point of view, being a CNS could fit your aspirations.
Hot tip: Seasoned clinical nurse specialists warn: Be sure you have experience as an RN before becoming a CNS. You'll need the experience!
Technical jargon: According to the APRN Consensus Model for Regulation (2008), "The CNS has a unique APRN role to integrate care across the continuum and through three spheres of influence: patient, nurse, system. The three spheres are overlapping and interrelated but each sphere possesses a distinctive focus. In each of the spheres of influence, the primary goal of the CNS is continuous improvement of patient outcomes and nursing care. Key elements of CNS practice are to create environments through mentoring and system changes that empower nurses to develop caring, evidence-based practices to alleviate patient distress, facilitate ethical decision-making, and respond to diversity. The CNS is responsible and accountable for diagnosis and treatment of health/illness states, disease management, health promotion, and prevention of illness and risk behaviors among individuals, families, groups, and communities."