Top paying specialties: General nurse practitioners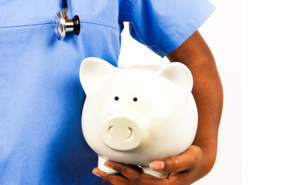 We're now in our seventh week running down the top 10 best paying nursing specialties. A little refresher on the top 6:
1. certified RN anesthetists
2. orthopedics
3. geriatrics
4. perioperative nurses
5. clinical nurse specialists
6. psychiatric nurse practitioners
General nurse practitioners or advanced practice registered nurses
Salary: $78,000 and $96,000
Why you might love this job: Nurse practitioners treat both physical and mental conditions by ordering and understanding diagnostic tests. So basically, you're like a detective! NPs diagnose a wide range of diseases and provide treatment for both acute and chronic issues. NPs have the honor of being able to serve as a patient's primary health care provider and assist long-term with their needs. They also get to see patients of all ages and have an inspirational philosophy of individualized care that focuses on conditions and the effects of those conditions on the lives of their patients.
Hot tip #1: "If you're thinking about being an NP, you might also want to look into PA. They're essentially pretty similar in the long run re: practice in the real world, and will most likely become even more similar as NPs and PAs continue taking over more of the primary care sector." — GQGomer, AllNurses.com
Hot tip #2: New grads are able to see patients and prescribe medications. You must complete graduate-level education (either a Master's in nursing or a Doctor of Nursing Practice degree) and it's best to obtain advanced practice nursing licensure before heading into this field.
Technical jargon: NPs make prevention, wellness, and patient education priorities. In addition to health care services, NPs conduct research and are often active in patient advocacy activities. To become licensed/certified to practice, Nurse Practitioners hold national board certification in an area of specialty (such as family, women's health, pediatrics, adult, acute care, etc.), and are licensed through the state nursing boards."
Source: Wiki