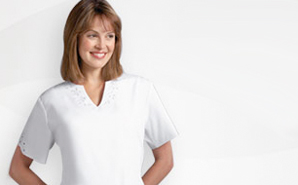 Should nurses wear uniforms? And what about all those cute scrubs out there? Are they professional?
Recently I have had to say good-bye to the cute scrubs of old–I now wear scrubs in the same color and style as the rest of my coworkers. Nurses on other floors can choose a solid color scrub set or all whites. Yes, WHITE! Can't believe we are back to that, can you?
The upside–the hospital pays for my scrubs. The real downside to uniforms in general? I don't think there is one (except for this whole white thing)!
I will never forget the first time time I put on a nursing uniform. I was newly accepted to a nursing program and had been through all the rigors of "getting in." Being accepted had been a huge battle for me, so I was excited to be buying all my school supplies–but getting that uniform was thrilling. Yes, I am a geek of sorts.
But when I removed my nursing school scrubs from the plastic bag they came in, things really did change inside me. Maybe I sound overly sentimental, but honestly, I had tears come to my eyes when I looked in the mirror and saw a potential "nurse" there. I think wearing those scrubs for the 1st time symbolized the beginning of a journey long-awaited journey.
Interestingly enough, just last week I was sitting at the nurses station at work when my manager came to talk to a group of us. She was in very nice business attire and looked very professional. The moment she walked away, a charge nurse said, "I wish she would wear some scrubs like the rest of us–she needs to get down and dirty again." Another nurse stated, "Yeah, she dresses that way because she makes more money than us."
I sort of laughed at those comments but it struck me how much the uniform or lack thereof in a clinical setting differentiates who is who. I also wondered at the time who looks "more professional"–my manager in her pretty clothes or us floor nurses in our same-colored scrubs. I'd have to say that my managers wearing business attire has created distance (whether good or bad) between her and her staff. And I wonder if patients get confused about her role when she goes into their room. Do they know she is an actual nurse? Scrubs kind of visually make a nurse, ya know?
I also saw a survey recently stating that patients prefer nurses who wear all white scrubs (I shudder at that visual) and carry a stethoscope over all other choices of nurse attire. They too find it more "professional." Honestly, I don't think scrubs emblazoned with rubber-duckies elevate nurses, but that's just me.
It seems the somber, unadorned nursing uniform really does do something to elevate the profession (and we need all the help we can get). I've also noticed that properly attired nurses just act differently. Putting on the uniform does something psychologically not just to the patient but to the nurse. It instills in us a sense of pride–it gives us part of our identity, in my opinion.
It's also obvious that nurse uniforms enhance safety: Patients know who is caring for them when they see us coming in our pajama-like outfits. This is important in a day and age where babies are stolen right out from under new mother's noses in the hospital. Uniforms don't always prevent these occurrences, but they give us one other identifier and make our patients feel safer.
Conversely, I think the practicality of the all-white uniform is nonexistent. I understand that it portrays an image, but in a profession where I am splashed daily with body fluids, I'm hoping the days of the white uniform are numbered. Surely patients would rather not see our stains! Plus the white uniforms I have seen can look really, really dingy even when well-laundered (not to mention the see-through aspect of the fabric).
I am also pretty concerned that in some facilities non-licensed professionals are able to wear the same uniform as the RN. I know many hospitals differentiate by color, which I guess is a good argument for all-white to become the norm. Patients don't have a cheat-sheet that tells them that "burgundy scrubs are respiratory" or "navy scrubs are worn by LPN's." It must be really confusing for them.
Aside from the color debate, I still feel a sense of pride when I wear my uniform. (I avoided the temptation to burn my nursing school uniform and have kept it as a reminder instead.) The nurses uniform clearly benefits everyone and really, I worked hard and earned the right to wear my scrubs!