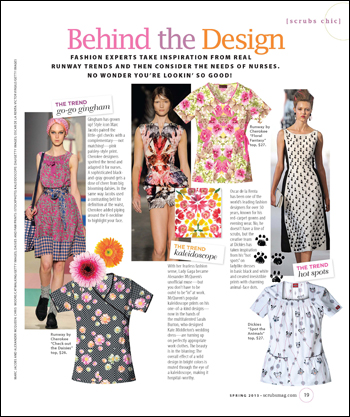 A team of fashion mavens take inspiration from real runway trends and then considers the needs of nurses, as seen in the Spring 2013 issue of Scrubs. No wonder you look so good!
The Trend: Go-go gingham
Gingham has grown up! Style icon Marc Jacobs paired the little-girl checks with a complimentary—not matching!—pink paisley-style print. Cherokee designers spotted the trend and adapted it for nurses.
A sophisticated black-and-gray ground gets a dose of cheer from big blooming daisies. In the same way Jacobs used a contrasting belt for definition at the waist, Cherokee added piping around the V-neckline to highlight your face.
The Trend: Kaleidoscope
With her fearless fashion sense, Lady Gaga became Alexander McQueen's unofficial muse—but you don't have to be outré to be "in" at work. McQueen's popular kaleidoscope prints on his one-of-a-kind designs, now in the hands of the multi-talented Sarah Burton, who designed Kate Middleton's wedding dress, are turning up on perfectly-appropriate work clothes. The beauty is in the blurring: the overall effect of a wild design in bright colors is muted through the eye of a kaleidoscope, making it hospital worthy.
The Trend: Hot spots
Oscar de la Renta 
has been one of the world's leading fashion designers for over 50 years, known for his red-carpet gowns and evening wear. No, he doesn't have a line of scrubs, but the 
creative team 
at Dickies has 
taken inspiration 
from his "hot 
spots" on
 ladylike dresses
in basic black and white and created irresistible prints with charming animal-face dots.
Sponsored by Cherokee Uniforms