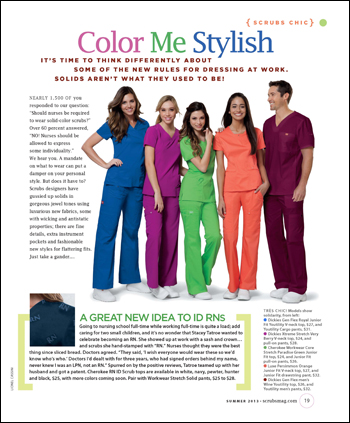 It's time to think differently about some of the new rules for dressing at work. Solids aren't what they used to be…as evidenced in the Summer 2013 print issue of Scrubs!
Nearly 1,500 of you responded to our question: Do you think nurses should be required to wear matching solid-color scrubs? Over 60 percent of you answered "NO! Nurses should be allowed to express some individuality." We hear you.
A mandate on what to wear can put a damper on your personal style. But does it have to? Scrubs designers have gussied up solids in gorgeous jewel tones using luxurious new fabrics, some with wicking and anti-static properties; there are fine details, extra instrument pockets and creative new cuts for flattering fits. Just take a gander…
TRÈS CHIC! Models above show solidarity, from left:
A GREAT NEW IDEA TO ID RNs
Going to nursing school full-time while working full-time is quite a load; add caring for two small children, and it's no wonder that Stacey Tatroe wanted to celebrate becoming an RN. She showed up at work with a sash and crown… and scrubs she hand-stamped with "RN." Nurses thought they were the best thing since sliced bread. Doctors agreed. "They said, 'I wish everyone would wear these so we'd know who's who.' Doctors I'd dealt with for three years, who had signed orders behind my name, never knew I was an LPN, not an RN." Spurred on by the positive reviews, Tatroe teamed up with her husband and got a patent. Cherokee RN ID Scrub tops are available in white, navy, pewter, hunter and black, $25, with more colors coming soon. Pair with Workwear Stretch Solid pants, $25 to $28.
Sponsored by Cherokee Uniforms