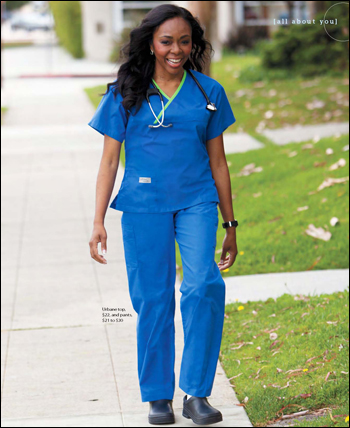 Do you wish you had less bust or more curves? Are you bothered by your muffin top or thunder thighs? These five nurses all have something they want to hide, so for the Winter 2013 issue of Scrubs magazine, Scrubs' stylists outfitted them with workwear that not only conceals their flaws but reveals their assets. Now they'll look their best doing what they do best.

Alice Benjamin
Cardiac Nurse, Cedars-Sinai Hospital, Los Angeles, CA
Figure Flaw: Packs weight around mid-section
What She Wore Before: The boxy top may hide a tummy, but it does nothing–especially in a color that washes out a beautiful creamy brown complexion–to flatter a perfectly nice figure.
Scrubs Makeover: Now we're talkin'! Feminine piping around the neckline accentuates Benjamin's smallish bust to create the illusion of a flat tummy (though she's hardly heavy, after having four boys, her waistline isn't what she'd like it to be). In addition, bright blue really pops and is so much more flattering–and pretty!–than the head-to-toe khaki, which Benjamin now says looks "blah." While her "before" scrubs were restrictive ("I was fighting with them all day!"), Benjamin loves the fabric of her new blues. "It breathes, feels soft and moves with me, which is essential in my job since I spend shifts pulling, pushing, lifting, lowering, reaching, moving all over the place." She's also a fan of the drawstring waist, which changes as she changes…"around the waist so I can still look good no matter how much I've indulged." Urbane top, $22, and pants, $21-30.
More Options:
Dickies Xtreme Stretch top, $24, and pants, $28
Dickies Generation Flex top, $24, and pants, $31