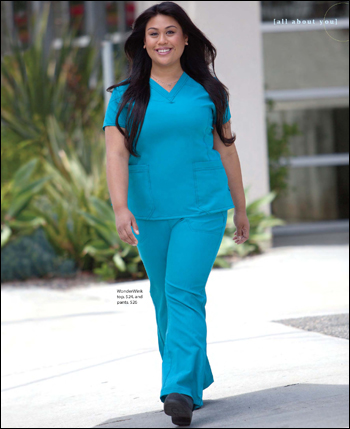 Rachelle Saturnino
Surgical Telemetry, Glendale Adventist Medical Center, Glendale, CA
Figure Flaw: Heavy thighs
What She Wore Before: Baggy pants and an overly long, straight unisex top don't hide wide thighs–they call attention to them!
Scrubs Makeover: "They're fitted…but not like skinny jeans," says Saturnino marveling at how her new pants slim her thighs. Because her breasts are hefty, she has trouble finding tops that can accommodate them "without making me look like I'm wearing a poncho,'' laughs Saturnino. This top is fitted ever so slightly to show–but not show off–curves. "I love that it's not just a big bag over me, and now I see how much better I look in a bright color." Matching top and pants in teal help create a striking silhouette. WonderWink top, $24, and pants, $26.
More Options:
Cherokee Flexibles top, $24, and pants, $24
Dickies Xtreme Stretch top, $24, and pants, $28
Hospice Nurse, Hoffmann Hospice, Palmdale, Calif.
Figure Flaw: Top heavy
What She Wore Before: These scrubs fit wrong in all the wrong places–they're big under the bustline where Padgett's smallest, binding over her bust and hips–and are simply…unflattering. Plus, in little-girl pink they're all wrong for a woman who's 5'10".
Scrubs Makeover: A subtle dark print that graduates from lighter over Padget's breasts to darker as it moves down over her torso to her hips does the trick! "I feel better!" she says, noting how the gathering under the bust where she's smallest gives her shape some shape and plays down a top-heavy figure. Since large breasts tend to pull up the hemline in the front so it hits the hips at their widest, Padget's "after" top is on the long side so it reaches her thigh. Also key: pants that stay up with a drawstring ("I can't be pulling them up all the time!") and have a high waist ("If I bend over I can't be worrying about showing too much skin"). Cherokee Fashion Print top, $27, and pant, $20.
More Options:
Cherokee Pro Flexibles top, $25, and pants, $27
Med Couture top, $25, and pants, $29
Ardel Areopagita
Oncology, Glendale Adventist Medical Center, Glendale, CA
Figure Flaw: High waist
What She Wore Before: Just what you don't want to do: wear a long top to conceal a short trunk!
Scrubs Makeover: A short top shows lots of leg and creates a long, lean line that camouflages a high waist. Stretch fabric, soft shaping through the mid-section and a deep v-neckline with piping down to the waist also lengthen and flatter her figure. Classic fitted pants–no low rises!–in a dark color also make a short leg look longer. "I love this fabric–it's not stiff like what I was wearing before." But for Areopagita, who calls herself "an owl-y," a design that features the wise birds is the capper, making these her scrubs of choice. "I love my job," she adds. "I think about that through every shift and looking good just adds to that good feeling." Cherokee Scrub HQ Print top, $21, and Cherokee Workwear Core Stretch pants, $24
More Options:
Cherokee Luxe top, $27, and pants, $31
Koi top, $31, and pants, $30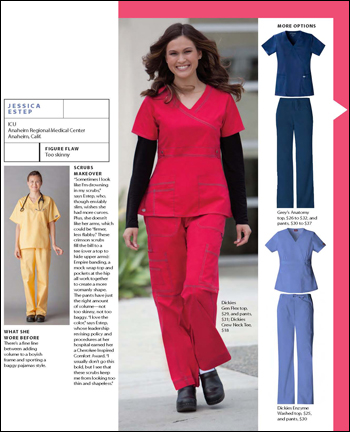 Jessica Estep
ICU, Anaheim Regional Medical Center, Anaheim, CA (ICA winner, 2011]
Figure Flaw: Too skinny
What She Wore Before: There's a fine line between adding volume to a boyish frame and sporting a baggy pjs-style.
Scrubs Makeover: "Sometimes I look like I'm drowning in my scrubs," says Estep who, though enviably slim, wishes she had more curves. Plus, she doesn't like her arms, which could be "firmer, less flabby." These crimson scrubs fill the bill to a tee (under the top to hide upper arms): Empire banding, a mock wrap top and pockets at the hip all work together to create a more womanly shape. The pants have just the right amount of volume–not too skinny, not too baggy. "I love the color," says Estep, whose leadership revising policy and procedures at her hospital earned her a Cherokee Inspired Comfort Award. "I usually don't go this bold, but I see that the darker colors I usually pick just make me look thinner." Dickies Generation Flex top, $25, pant, $30, and underscrub, $22.
More Options:
Grey's Anatomy top, $26-32, and pant, $30-37
Dickies Enzyme Washed top, $25, and pant, $30
Sponsored by Cherokee Uniforms