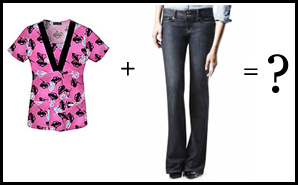 What can nurses wear off duty if they were to incorporate scrubs (not work scrubs, for obvious reasons) into their outfits?
We were inspired to expand on a great feature from the print version of Scrubs Magazine, where a stylist-to-the-stars put together two chic outfits that pair scrubs basics with great accessories.
Flip to the last page of the mag and you see how you can forge new fashion trends by having some fun with an extra pair of scrubs.
We asked our own stylist-to-the-stars Katie Sparks to help us, and she came up with a novel way to put together some great outfits. Read on for her great tips!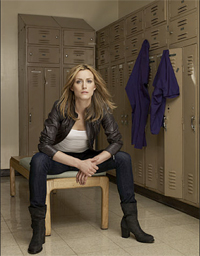 As a costume designer, I like to visualize characters I'd typically dress for roles. I picked the nurses from my new favorite medical drama, Mercy, to be my models.
Mercy is populated with an interesting group of nurses and doctors who are first and foremost easy on the eyes. The color palette is very controlled. The lead actors wear jewel tones, mostly blues, and the background medical personnel wear pastels.
(1) Let's start with lead character Veronica Callahan (Taylor Shilling). She usually wears dark blue, almost purple, but I'd love to see Veronica in a pair of navy scrubs pants with a pair of brown biker boots and a short-cropped brown leather jacket. A white v-neck tee and baby blue v-neck cashmere sweater would create a soft fashionable style. To finish the look, I'd have her in a baby blue cashmere scarf that matched her sweater. If she was in this outfit and called in to work, all she would have to do is lose the jacket and sweater and throw on a scrubs top. And then, of course, change out of her boots to a comfortable pair of clogs.
(2) Another look I'd like to see on Veronica would be a worn-out rock and roll t-shirt with a pair of scrubs pants. If Veronica's t-shirt were lavender, I'd pair it with a pair of brown scrubs and a pair of burgundy clogs. Veronica would have that funky style that we like and looking hip by mixing the scrubs with street clothes. A pair of these Mercury Dasha lounge pants would show off her relaxed but cool side, and they would go nicely with a solid top.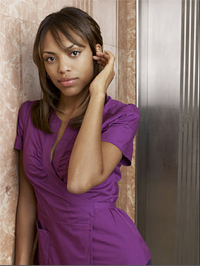 At work, Sonia Jimenez, (Jamie Lee Kirchner) wears a great turquoise t-shirt with matching scrubs. Her scrubs show off her curvy silhouette and compliment her big smile that would cheer up any patient.
(3) If I were to dress Sonia in street clothes and scrubs, I'd definitely keep the scoop neck tops that show off her curves and give her an up-to-date look. Her tops would look great with a pair of skinny jeans (Oprah loves the fit of CJ by Cookie Johnson jeans). Sonia could look sexy in a pair of tailored scrub pants with a scoop neck sweater. Sonia is one of the characters who has a body that looks great any way she wears her scrubs!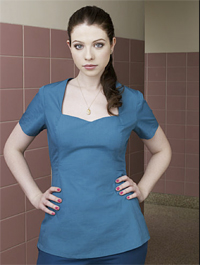 Chloe Payne, (Michelle Trachtenberg), is the young perky nurse who wears one of my favorite new looks for nurses. She often wears v-neck floral short sleeve tops. Her scrubs immediately tell me that Chloe is the most feminine of the trio of nurses who are close friends.
(4) Chloe can easily wear one of her printed scrub tops with a pair of jeans. A pair of dark pink scrubs would also look great with a jean jacket for streetwear.
Angel Garcia, (Guillermo Diaz), is a male nurse at Mercy. Angel's uniform is a pair of scrubs, printed t-shirt, and a hoodie. Angel's burgundy scrub pants look great with his tees, making an eclectic style that works for him.
(5) Angel is one of the few guys who can walk to work wearing his entire hospital uniform and look hip. Add a navy pea coat and he's ready for colder weather. He could take off his hoodie and wear a worn button-down shirt with his t-shirt and scrubs and look great.
Angel has that kind of look that any guy in his twenties would want to emulate; a cool look in an understated way.
So as you can see, scrubs aren't only for the hospital. Mix your extra scrubs with other clothes in your closet; you'll be surprised what great new looks you'll create!