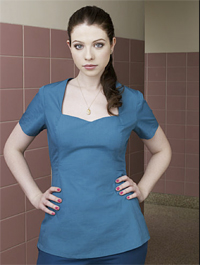 Chloe Payne, (Michelle Trachtenberg), is the young perky nurse who wears one of my favorite new looks for nurses. She often wears v-neck floral short sleeve tops.  Her scrubs immediately tell me that Chloe is the most feminine of the trio of nurses who are close friends.
(4) Chloe can easily wear one of her printed scrub tops with a pair of jeans. A pair of dark pink scrubs would also look great with a jean jacket for street wear.
Angel Garcia, (Guillermo Diaz), is a male nurse at Mercy.  Angel's uniform is a pair of scrubs, printed t-shirt and hoodie.  Angel's burgundy scrub pants look great with his tees, making an eclectic style that works for him.
(5) Angel is one of the few guys who can walk to work wearing his entire hospital uniform and look hip. Add a navy pea coat and he's ready for colder weather. He could take off his hoodie and wear a worn button down shirt with his t-shirt and scrubs and look great.
Angel has that kind of look that any guy in his twenties would want to emulate; a cool look in an understated way.
So as you can see, scrubs aren't only for the hospital.  Mix your extra scrubs with other clothes in your closet; you'll be surprised what great new looks you'll create!
Sponsored by Cherokee Uniforms