You spend a lot of time in scrubs, so it makes sense that you want your scrubs to flatter your body type and be fashionable.
We've picked seven of the most common body shapes (big chested, pear-shaped, full-figured, petite, tall, long-waisted, and athletic) and found scrubs that'll look great on each.
Now find your shape…and see the scrubs that highlight your best features.
Big Chested | Pear-Shaped | Full-Figured | Petite | Tall | Long-Waisted | Athletic
1. Big Chested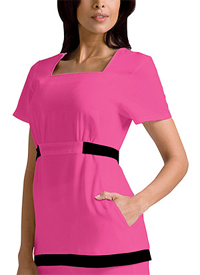 Tips:
Big Chested | Pear-Shaped | Full-Figured | Petite | Tall | Long-Waisted | Athletic
2. Pear-Shaped
Tips:
Big Chested | Pear-Shaped | Full-Figured | Petite | Tall | Long-Waisted | Athletic
3. Full-Figured
Tips:
Big Chested | Pear-Shaped | Full-Figured | Petite | Tall | Long-Waisted | Athletic
4. Petite
Tips:
Big Chested | Pear-Shaped | Full-Figured | Petite | Tall | Long-Waisted | Athletic