Scrubs styles that make you look like a pro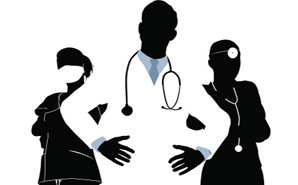 Once in a while we like to poke some gentle fun at scrubs fashion bloopers. But what we really love are styles that send the signal to coworkers and patients that you are a real professional. Here are some of our top picks for scrubs that tell everyone you mean business.
Made for Movement
As a nurse, you need scrubs that move with your body. Regular scrubs pants can bag or catch at the knee as you sit, bend or squat to perform tasks at work. Knee darts are a detail that set the pros apart from the amateurs. Pants that have these darts actually contour to your knee as needed to accommodate your full range of motion. A relaxed-leg fit gives you plenty of breathing room. Elastic, drawstring and belt loops all on the same waistband provide 100 percent confidence that you won't accidently flash your delicates as you go about your day. Last but not least, a utility pant with nine pockets provides all the storage even the best-prepared nurse could want. Now you can get all these features in a single pair of scrubs pants.