Scrubs then and now – a mocking retrospective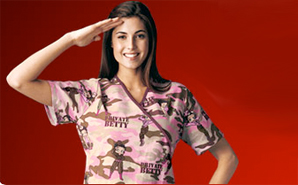 Fashions change over time. We've all fallen victim to a bad trend or hairstyle that we're ashamed of today. And here's a dirty little secret: There are a few of us out there right now with hairstyles we'll be ashamed of one day. That's the nature of the fashion beast.
We called on our sponsors at Cherokee Uniforms to see if they had any old catalogs full of smocks we could mock. They didn't disappoint, so we've compiled a fun retrospective of scrubs fashions through the years. We promised that our teasing was all in fun, and they promised they wouldn't take it personally….