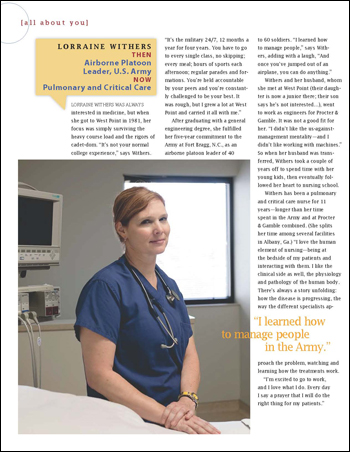 When he said, "There are no second acts in American lives," F. Scott Fitzgerald may have been right—at the time. No more, as these nurses prove in the Winter 2010 issue of Scrubs. Each made a major career switch and finally landed the role of a lifetime.
Lorraine Withers, RN
Then: Airborne Platoon Leader, U.S. Army
Now: Pulmonary and Critical Care
Lorraine Withers was always interested in medicine, but when she got to West Point in 1981, her focus was simply surviving the heavy course load and the rigors of cadet-dom. "I wasn't well prepared and it was tough," says Withers. "It's not your normal college experience—it's the military 24/7, 12 months a year for four years. You have to go to every single class, no skipping; every meal; hours of sports each afternoon; regular parades and formations. You're held accountable by your peers and you're constantly challenged to be your best. It was rough, but I grew a lot at West Point and carried it all with me." Medical school was relegated to the back burner.
After graduating with a general engineering degree, she fulfilled her five-year commitment to the Army at Fort Bragg, N.C., as an airborne platoon leader of 40 to 60 soldiers. "I learned so much about managing people there. And once you've jumped out of an airplane, you can do anything."
Withers and her husband, whom she met at West Point (their daughter is now a junior there; their son says he's not interested…), went to work as engineers for Procter & Gamble. It was not a good fit for her. "I didn't like the manufacturing environment—the us-against-management mentality—and I didn't like working with machines." So when her husband was transferred, Withers took a couple of years off to spend time with her young kids, then eventually followed her heart to nursing school.
Withers has been a pulmonary and critical care nurse for 11 years—longer than her time spent in the Army and at Procter & Gamble combined. "I love the human element of nursing—being at the bedside of my patients and interacting with them. I like the clinical side as well, the physiology and pathology of the human body. There's always a story unfolding: how the disease is progressing, the way the different specialists approach the problem, watching and learning how the treatments work.
"I'm excited to go to work, and I love what I do. Every day I say a prayer that I will do the right thing for my patients."