The next time you roll up the sleeves of your durable Cherokee scrubs, take pause and remember that a nurse did not always have it so comfortable – or convenient. The standard uniform for a nurse has changed drastically over the last 200+ years, along with the public's perception of what we do.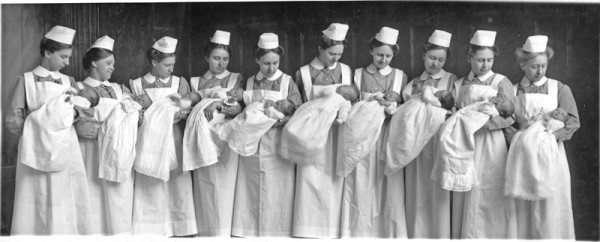 The Early Years
The history of nursing uniforms can be traced back to the early 1800's when nurses were regarded in the same manner as servants, wearing full gowns in black or prints with large white aprons and caps. This full dress of course limited mobility for a nurse and kept their role in patient care diminished.
By the middle of the century, there was a greater calling for nurses, and those who sought it as a career stated to gain more respect. Training programs began to pop up, and the servant uniform was replaced by a pretty gown. The white apron stayed to help identify the women as nurses, and that starched white cap placed perfectly atop the head became a universal symbol of nurses at that time. A ribbon system was instilled that helped to differentiate nurses by rank, with senior nurses wearing black bands on their arm to show their superiority in their field.
Nursing Uniforms at the Turn of the Century
By the early 1900's, nurses started to look for convenience in their uniforms, and pockets in the aprons became very popular. The top featured a pointy collar and buttons which was covered by a bib that was cinched at the waist and then gathered around the skirt. The dress was always well tailored and made using a solid color fabric. This, along with the unique cut of the top and fit of the apron helped to distinguish a nurse from your typical house servant.
Another aspect brought to the nurse's uniform of the early 1900's was the large white hat and veil. Simulating a nun's uniform, this brought even more respectability to the field, and made it easy for nurses to be called upon by churches to help during times of epidemic sickness and community disease. The world was beginning to recognize that the role of nurses in medicine was very important.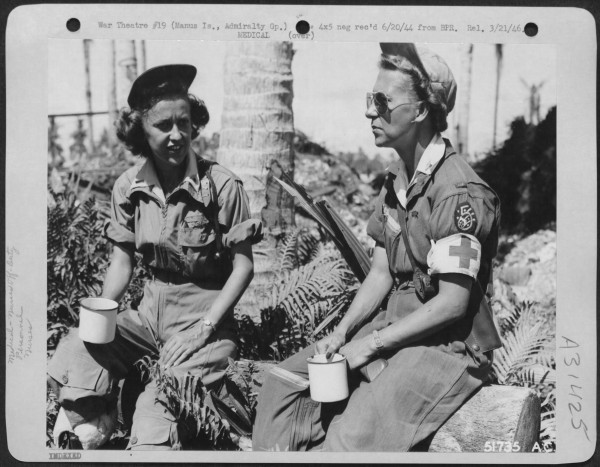 WWII and the First Major Change to Nursing Uniforms
The First World War necessitated nurses who were quick on their feet and efficient. This need did not correlate well with the bulky uniform, which was changed to shorter shirts, shorter sleeves and the loss of the large apron. By scaling down the nurse uniform and adding more pockets, we finally saw an outfit that was functional yet still feminine.
The nursing cap however did not change until the middle of the century, when those large nun-like affairs were replaced with simple paper hats that fit tightly on the back of the head. These hats were more comfortable, but still distinguished nurses from other medical professionals. The use of a hat as a part of the nursing uniform was not discontinued until the 1970's, when male nurses became more common.
Nursing Scrubs
The conundrum of what to wear to work for male nurses started the use of surgical scrubs as a uniform. Not only were these versatile and comfortable, their very design made it difficult to transfer infections from one patient to the next. The new fashion trend for nurses caught on for the women too, and at long last skirts and blouses were no longer a standard.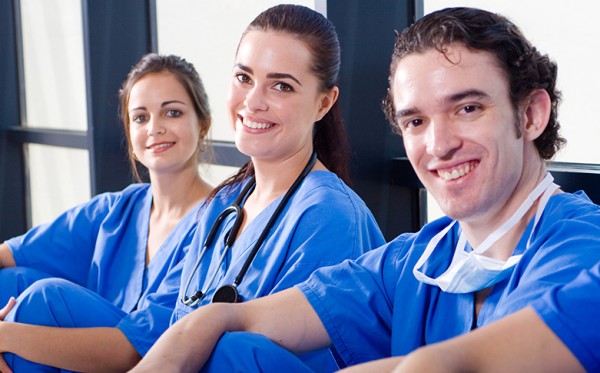 Nursing Scrubs and Uniforms Today
Luckily for the fashion forward nurse, the large dresses and starched white aprons only make for fun Halloween costumes. Scrubs come in a variety of colors, cuts and styles that allow you to completely personalize your nursing look. High-quality brands like Dickies and Cherokee design scrubs that are comfortable and easy to care for. Other brands like Code Happy look and feel great, even though they are made using versatile materials that come with a fluid barrier. That's great news for nurses who don't have the time to change their clothes after every small spill.
There are also scrubs available that put a lot of effort into making sure nurses look good at work. Heartsoul Scrubs use fun prints, bright colors and form fitting cuts to make each scrub look a stunning one. No aprons, funny hats, or swinging skirts are in sight with this creative line of nursing scrubs.
The nurse's uniform has evolved over the years, reflecting their increased responsibilities and roles in the medical world. The days when a nurse was dressed to resemble a servant are long gone, as now it is not easy to distinguish one from a doctor, both in how they look and the level of care they provide for their patients.
Sponsored by Cherokee Uniforms