Shop talk–from nursing to retail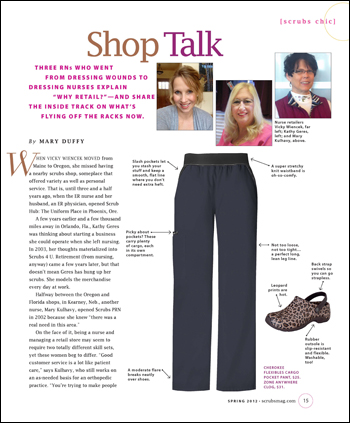 From the Spring 2012 issue of Scrubs
When Vicky Wiencek moved from Maine to Oregon, she missed having a nearby scrubs shop, someplace that offered variety as well as personal service. That is, until three and a half yearsago, when the ER nurse and her husband, an ER physician, opened Scrub Hub: The Uniform Place in Phoenix, Ore.
A few years earlier and a few thousand miles away in Orlando, Fla., Kathy Geres was thinking about starting a business she could operate when she left nursing. In 2003, her thoughts materialized into Scrubs 4 U. Retirement (from nursing, anyway) came a few years later, but that doesn't mean Geres has hung up her scrubs. She models the merchandise every day at work.
Halfway between the Oregon and Florida shops, in Kearney, Neb., another nurse, Mary Kulhavy, opened Scrubs PRN in 2002, because she knew "there was a real need in this area."
On the face of it, being a nurse and managing a retail store may seem to require two totally different skill sets, yet these women beg to differ. "Good customer service is a lot like patient care," says Kulhavy, who still works on an as-needed basis for an orthopedic practice. "You're trying to make people feel comfortable and you have to listen to what they say."
"Dressing a nurse is like outfitting a special kind of athlete," says Wiencek. Clothing has to help—not hinder—performance. That means no dangling bits of fabric to catch on bedrails or door handles, enough coverage to avoid flashing skin when you bend over and pockets that allow you to securely stash the tools of the trade. Oh, and of course, comfort, durability, affordability and a fit that flatters.
All three nurses are rewarded by providing a service to healthcare workers. The daily interaction with other nurses is a bonus. "I can commiserate about work, recall my days on the floor—without the stress. And I don't have to get up at 5 a.m. to do it," laughs Geres. Bumping into long-lost colleagues can turn Kulhavy's workday into a mini-reunion. It's work, but it's fun.
For Wiencek, the relaxed pace of retail is a nice change from the ER, where she still works three or four shifts a month. It's a good balance for another reason. "Working in an ER, you see life-or-death situations all the time"—and that, she says, helps keep retail stresses in perspective.