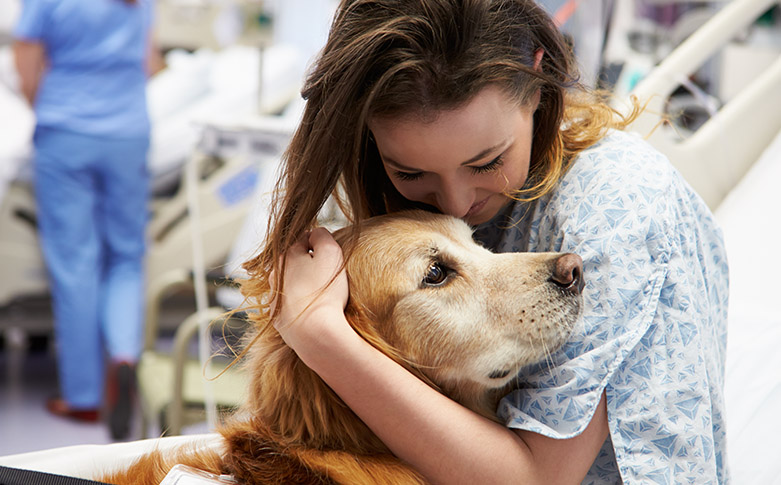 Shutterstock | Monkey Business Images
Over the past couple of decades it has become increasingly common to find dogs lounging around offices during work hours. Now our furry friends are making their way into some hospitals around the U.S.
The American Pet Products Manufacturers Association found that 17 percent of all companies allow pets in the workplace, and 23 percent of workers believe that pets should be allowed in the workplace. A Virginia Commonwealth University study found that dogs in the workplace can lead to reduced stress and increased job satisfaction.
Even though hospitals aren't your ordinary workplace, dogs are becoming more common on medical campuses across the U.S. for both therapy and security purposes. However, the jury is still out on whether dogs are a clean addition to hospitals or if they present a risk to patients.
Security Dogs
Security magazine recently released an interview with Rick Ortiz, Security Director/Banner Health Security K9 Unit Director. Ortiz uses K9 security every day at Banner Health facilities in Arizona and Colorado, and the healthcare company has been using dogs as a form of security since 1995.
Ortiz says that his K9 force provides "an alternative to arming security officers, thus giving us a non-lethal force." The dogs patrol the campuses to deter criminal activity and some also are used to assist in looking for suspicious packages.
Ortiz also says other health systems across the U.S. are interested in his program and often contact him for information on how the K9 security force works. He adds that although patients and new visitors initially may be surprised by the presence of dogs, most warm up to the animals and many tend to begin to view the K9 force as therapy dogs.
Therapy Dogs in Hospitals
Official therapy dogs are also becoming a more common sight in many hospitals, and some medical facilities are even allowing long-term patients to bring their own pets to visit them in their hospital rooms.
National Geographic reports that evidence of "positive responses to such animal-assisted therapy has mostly been anecdotal. But a recent study on elderly nursing home patients now offers scientific support that brief weekly visits from man's best friend can have a positive therapeutic impact."
The same article talks about a golden retriever named Bo that has visited patients at Cedars-Sinai Medical Center for the past three years as part of the POOCH (Pets Offer Ongoing Care and Healing) program. Bo not only visits patients, but also helps families in waiting rooms temporarily take their minds away from their troubles.
Keeping It Clean
Bo's owner, Marcia Strum, notes that Bo can only visit every other week, however, as he has to be thoroughly scrubbed before heading to the hospital, and more frequent washings would lead to skin problems.
Which brings up the cleanliness issue.
The New York Times reports on a Canadian study showing that dogs can easily transmit germs between patients. The study explored dogs' capacity to carry and spread germs in the hospital: "Compared to human visitors, animals typically visit a larger number of patients and staff members and walk bare-pawed on hospital corridors, possibly making them more likely to pick up germs."
Although this stresses the importance of our own regular hand washing at work, it also raises a question of whether the risk of spreading germs outweighs the benefits dogs offer patients.
We present the issue to you: What are your experiences with dogs guarding hospitals or visiting patients? If your workplace doesn't allow pets, do you think it would be a good idea? Let us know in the comments below!