Silly stock photos of nurses and food
Do unrealistic photos of nurses make you want to lose your lunch? Hold onto your Triscuits because this installment of "worst stock photos" is all about healthcare professionals and victuals. We thought we'd come up with some wacky stuff, but we didn't know just how weird things were going to get until we really dug in. Let's start you out with an appetizer before we get into the heavier items on the menu.
Busted!
The look on this nurse's face says, "Oops, my diabetic patient saw me eating this!" Being caught smoking used to be the most embarrassing experience for a healthcare professional. But now it's simple carbs that are the forbidden substance. We know nurses are supposed to practice what they preach by eating well, yet we all secretly sneak in the sweets from time to time. Give us a break. We're only human, after all!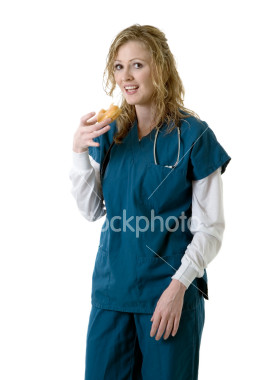 Next: The Scale Doesn't Lie→