3. Eat vegetables at every meal
I am the master of hidden veggies. One of the habits I have developed is to eat vegetables at every single one of my meals, no excuses. I have done this every day, without fail for many years and my secret is to use "hidden veggies." For example, I cook my daily oatmeal with riced cauliflower or grated zucchini, both of which you cannot taste. I make every smoothie I drink with some type of vegetable, and I always eat a salad for lunch. If I want a pasta dish, I incorporate spaghetti squash or zucchini noodles into the recipe for an added nutritional and fiber boost. I recommend buying a food processor, veggie chopper, and spiralizer to make easy to use vegetables that can be incorporated into every recipe.
4. Something is better than nothing. Invest in your health.
During my first two years of medical school, I often studied up to 16 hours a day, and each day would leave me mentally and physically exhausted. It would have been easy for me to throw my hands up, and simply use the excuse of being too tired to not exercise or prepare a healthy meal. I think that it is common to have the all-or-nothing mentality. We either want to go all out or do nothing at all. However, even during finals week, I developed the mentality that "something is better than nothing," meaning that even 10 minutes of an at-home exercise circuit is better than nothing at all. I would employ this phrase and use every break I had throughout the day to do something for me. Everyone has at least 10 minutes to move.
5. Keep healthy snacks on hand and in your coat or scrub pockets. Think ahead and prep.
It is easy to eat anything in sight when you are hungry and trust me, I have been ravenous on rotations, often going the entire day without the opportunity to eat. To prevent this I plan ahead, always have easy to eat high protein snacks on hand (in your scrub pockets). My favorite snacks are natural high-protein bars; my favorite are Quest or Rx Bars. These keep me full for hours. I also recommend keeping a bag of nuts, such as cashews or almonds in your pocket, for easy on-the-go snacking. The healthy fats will keep you satiated. I also recommend dried fruit or jerky as a healthy and satisfying snack.
6. Learn to work with what you've got.
What I mean by this is to learn to make the healthiest decisions based on your situation. Whether it be making food options at a catered lunch for a conference, choosing food from the hospital cafeteria, managing hunger on a 12-hour shift, or traveling for work, always anticipate and analyze the situation and attempt to make the healthiest choice. I have learned tips and tricks to make the healthiest food options out of not-so-healthy menu items. If possible, I always utilize the salad bar or order a salad with dressing and toppings on the side. I will modify menu items opting for options that are baked and not overly saucy, and fill up on fruits and vegetables. When traveling, I travel with an abundance of high protein snacks and always pack resistance bands to exercise in my hotel room. I bring a reusable water bottle with me and tea bags and sip tea and water all day long.
I hope these tips will offer support and help you take your next step towards living a healthier life on the go. For recipe and food prep ideas, please visit my Instagram page @the.physicians.kitchen.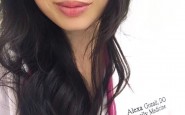 Sponsored by Cherokee Uniforms