Look 10 pounds slimmer in your scrubs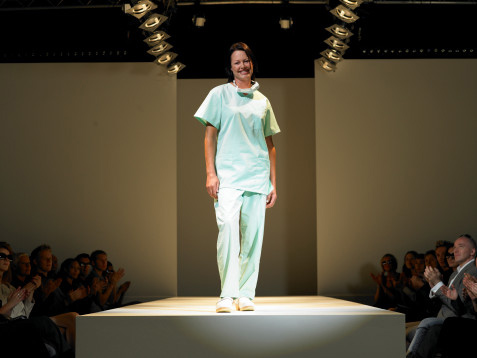 With summer right around the corner, now is the time to rethink your scrubs so you can look your best.
1. Say yes to monochrome
Dressing in monochrome scrubs is the first and most important step to help create a longer, leaner line. Dressing in one color gives the illusion of looking thinner because of the continuous color; it doesn't break up the vertical line like wearing two different colors can.
Another way to accentuate your body and camouflage those trouble areas is to wear dark colors. Colors like black, brown, navy, charcoal, burgundy, deep green and purple are slimming. And always wear the styles that complement your body type. This scrub top with the feminine scoop neck is a great way to wear the monochromatic color combinations. The black, brown and navy are excellent choices.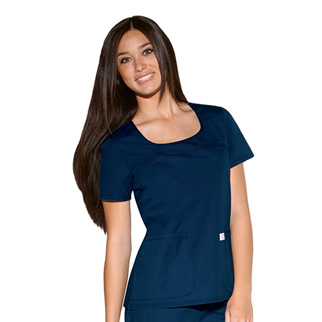 I like this solid-color warm-up jacket with a pair of the Skechers pants in a matching color.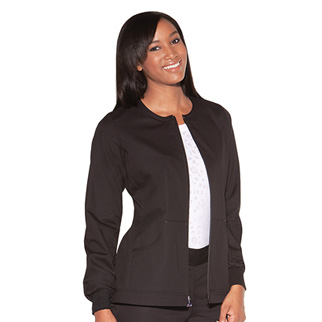 2. Get rid of anything too snug or too big

Don't wear anything that is too tight—either your top or bottoms. Nothing will make you appear heavier than wearing something that is too snug. On the other hand, oversized scrubs will also end up giving you a larger look. Although it's tempting to try to hide in a long, bulky sweater or squeeze into something that's too tight, neither of these strategies works when you're trying to look thinner. This applies to everyone. Even actresses.
The other night, I was watching a TV show in which a beautiful actress with a great body walked into the scene. She always looks great on the show, but in that particular episode she wore a top that was too tight. The buttons across her chest were pulling so much they looked like they would pop open any second. If she was playing the part of Wonder Woman and needed to suddenly pull apart her shirt to revel her costume underneath, I would understand. The ill-fitting blouse was so distracting that it took away from her acting and her beauty—not to mention it added 10 pounds to her. I don't want you to make the same mistake!
3. Choose strategic detailing
A scrubs top with some embroidery brings the focus front and center. A forgiving cut, like a tunic-style top, gives you the look that is more figure-friendly, which creates a slimming and flattering look. Another way to look thinner is to wear a V-neck. The V-neckline creates a nice vertical line and a leaner, longer look. Check out this great top with contrasting piping.
Pair this embroidered top with a black pair of scrub pants.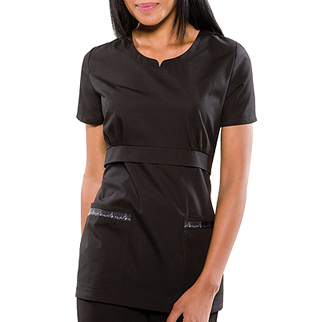 Here's another slimming top that falls just below the hips with a pretty neckline.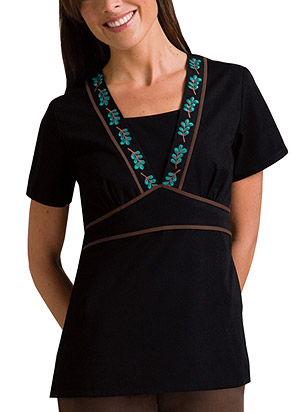 4. Get the perfect-fitting pants
Looking for scrub pants that can make you look trimmer? Make sure they really fit. If you find the right scrubs, they can slenderize certain problem parts of the body such as the butt, hips and thighs. Try wearing bottoms that have no pockets or pleats. If you can't live without your pockets, make sure the pockets are small enough and placement on the pant doesn't add any extra bulk. A flat-front pant will create a line that subtracts pounds. Make sure your scrubs extend all the way to your shoe tops to give your legs a longer look.
Check out these pants.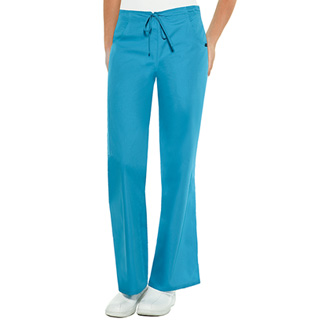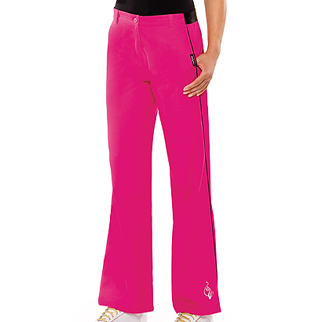 I like the above Baby Phat Girly Things pants with this Girly Things top.
5. Choose the right prints
If you're attached to your prints and can't see yourself in solid colors, be sure to watch the patterns. Choosing the right print can make all the difference in looking thinner. Big and loud patterns can present an illusion of you as bigger than you are.
Here's a great scrubs top from Cherokee that has a feminine petite print.
Remember these fashion tricks of the trade, and before you know it, your coworkers will be asking you if you've lost 10 pounds. Just smile and say, "Thank you, I do feel great!"
---
This article is mentioned in the Spring 2010 print edition of Scrubs Magazine, which can be found at uniform retail stores nationwide or purchased online. Go to https://scrubsmag.com/magazine for a peek inside and to find out where you can get your copy!
Sponsored by Cherokee Uniforms