Special nurse days in November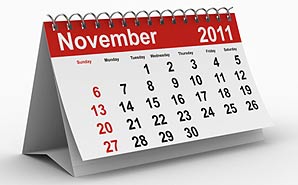 November is the month to give thanks and is a great time to appreciate nurses everywhere! Here are some special dates for nurses to celebrate and acknowledge.
Nursing factoids
November 4, 1854: Florence Nightingale arrives in Scutari (modern-day Istanbul) to care for wounded soldiers.
November 8, 1938: Spirit of Nursing monument is dedicated in Arlington National Cemetery.
November 29, 1832: Author and Civil War nurse Louisa May Alcott is born.
Circle these dates
November 1-7: Urology Nurses and Associates Week
https://scrubsmag.com/you-know-youre-a-urology-nurse-when/
November 1-7: National Medical-Surgical Nurses' Week
https://scrubsmag.com/you-know-youre-an-ambulatory-surgical-nurse-when/
November 7-13: Perioperative (OR) Nurse Week
https://scrubsmag.com/a-cure-for-hospital-tunnel-vision-peeking-into-the-or/
All month: National Home Care Month
https://scrubsmag.com/you-know-youre-a-home-health-nurse-if/
November is also:
National Alzheimer's Disease Awareness Month
National Family Caregivers Month
National Hospice and Palliative Care Month
Sources:
aahn.org/nursinghistorycalendar.html
nasrecruitment.com/docs/calendars/2011/2011-Healthcare-Calendar-of-Recognition-Days.pdf