This post is sponsored by Cherokee Uniforms.
Everywhere you looked, Fall 2019 runways were full of impractical suiting. Labels from Burberry to Balenciaga, Prada and D&G, to Stella McCartney and Alexander McQueen flouted oversized, exaggerated, Savile Row couture few in the working world could actually wear.
But amidst the shoulder pads and quilted cashmere, the fashion houses did get one thing right — elegant and wearable grey hues. From cool concrete colors to bluish pewters and stormy shades of steel wool, the abundance of grey this season is a trend that can easily translate to your work wardrobe.
Heathered grey scrubs aren't just trendy. They're also super-practical. The blend of fibers creates a dimensional shade that enhances any outfit while hiding minor snags and stains. If you're prone to these hazards (and who isn't?) heathered grey scrubs can help you meet your style goals in 2019 and beyond.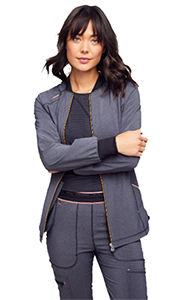 Get the Look: Infinity Limited-Edition Heathered Collection
When it comes to the heathered trend, Cherokee is on point with their Infinity line, which featured several different styles and color combinations.
We particularly like the Women's Midrise Tapered Leg Pant in heathered charcoal. It's sporty and sophisticated, with ankle side vents to accommodate any shoe style, five handy pockets, and colorful accent stitching.
Infinity also has a women's V-Neck Top and Zip Front Warm-Up jacket in heather charcoal, as well as another stylish neutral, navy.
Heathered Scrubs Aren't Just for the Ladies
Infinity's heathered collection is also available for men. We love the practical and stylish Fly Front Cargo Pant, which has plenty of pockets and both an elastic waistband and belt loops for the perfect fit. Pair it with the Men's V-Neck Top in heathered charcoal, which features triple-needle topstitched front pockets designed to stand up to heavy use.
This Infinity collection also features a Men's Colorblock Zip Front Jacket in heather charcoal with black sleeves, collar, cuffs, and hem for classic bomber-jacket good looks with modern flair.
With sporty scrubs in heathered fabrics, your look will be on trend for 2019, and you won't have to worry about minor mishaps spoiling your style. Find these limited-edition Infinity pieces at www.infinityscrubs.com