Spread Some Holiday Cheer: Heartwarming Stories for Nurses
Working around the holidays is never easy. Your friends and family members are off celebrating this special time of year, while you're stuck at work caring for your patients. But working as a nurse on the holidays doesn't have to be a snooze fest. There are plenty of ways to celebrate at work. You can make special gifts for your patients, break out in an elaborate song and dance, or just spend time with the patients and colleagues you care about most.
Don't let work spoil your holiday cheer. Here are some heartwarming stories to get you excited about working around the holidays.
Nashville Nurse Breaks Out into Song with Her Patient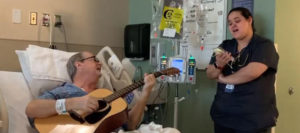 Nashville is known for its talented vocalists. Even nurses can carry a tune. Oncology nurse Alex Collazo decided to cheer up one of her patients after she found out he was having a hard time with his chemotherapy. The patient, Penn Pennington, has been performing throughout the Nashville area for over 30 years. Collazo, who's always had a passion for singing, broke out in a duet with Pennington. Luckily, one of her colleagues was on hand to record the video with her smartphone.
The other nurse then uploaded the video to Facebook where it got more than 75,000 views in just a few days. Nothing could heal Pennington like a beautiful rendition of "O Holy Night."
Nurse Spreads Cheer to Her Patients in the ICU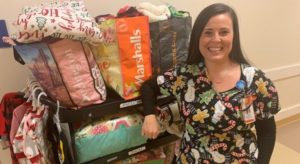 Working in the ICU around the holidays can be a challenge for healthcare providers. Families are going through some of the toughest moments of their lives during what should be the happiest time of the year. But ICU nurse Molly Moore was determined to bring the festivities to her patients. She spent Thursday morning at Ann & Robert H. Lurie Children's Hospital in Chicago giving out presents to some of her sickest patients, including holiday-themed blankets, pajamas, and pants.
As Moore told WBBM Newsradio, "Working here around the holidays in the ICU, it's a time for families who need a little pick me up, especially when they know they won't be home for the holidays. I thought, 'Why not bring a little holiday cheer to these families?'"
Moore started collecting clothes for her patients a few years ago, but the project has gotten much larger as of late now that Moore has started asking for donations on Facebook. This year, Moore collected 378 pajamas, 210 blankets, and $960 in GoFundMe donations. She loves watching her patients and their families light up when they receive a special gift around the holidays.
Nurse Knits Baby Yoda Hats for Her Young Patients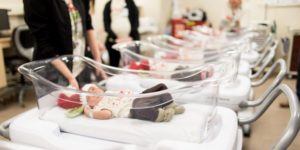 In case you haven't heard, there's a new streaming service on the market. Move over, Netflix. Disney+ is spreading cheer to millions of families. A new Star Wars show called "The Mandalorian" has been the talk of the town as of late, particularly a fuzzy little green character known only as "The Child," but his fans know him as Baby Yoda. Children everywhere, and plenty of adults, are hoping for a Baby Yoda toy for the holidays, but toy manufacturers won't have these dolls ready until Spring.
UPMC Magee-Women's Hospital in Pittsburgh is known for dressing up newborns in all kinds of cute clothes. This year, one of the nurses on staff, Caitlin Pechin, went above and beyond for her tiny patients. She spent hours making Baby Yoda hats for all the newborns. Parents were in awe of their children when they saw them dressed up as Baby Yoda. They even have matching onesies that say, "Cute, I am." It's just what these families needed to keep their spirits up around the holidays.
Use these stories to get inspired for your next shift around the holidays. Your patients would rather be at home as well, but you can make the most of your time together. Spread some cheer to your patients and colleagues with these festive stories.