Do you think springtime is all about pastels? Does wearing baby blue make you look like someone should check your blood oxygen levels? Are you lukewarm about the results of donning pale pink? Does dressing head to toe in yellow make you feel like a giant, stale marshmallow Peep? Never fear! The fashionable tints and tones for this season are anything but timid.
Check out these freshly launched scrubs colors that bring the hues of haute couture to the hospital. Donna Karan is famous for saying, "Design is a constant challenge to balance comfort with luxe, the practical with the desirable." We think these scrubs accomplish that balancing act just fine.
Wow with Wu in Caribbean

Jason Wu is a relative newcomer to the fashion scene. But we all know his name because he dresses one of the most famous women in the world: Michelle Obama. He's known for using bold colors and clean, modern lines. That's a perfect style for scrubs manufacturers to imitate, since healthcare is no place for "froufrou." We think the First Lady would approve of today's modern stretch fabrics for nurses. They definitely help you keep moving (and we all know that's key to keeping off the extra pounds!).
According to Wu, "This season was really about beautiful clothes—scrumptious, luxurious, beautiful clothes that women want to wear." We see why women want to wear Caribbean blue. It has an intriguing and slightly murky shade that hints at hidden depths. It's kind of like the Mona Lisa of the color wheel. Plus, it doesn't show stains….
Blown Away by BILLTORNADE Eggplant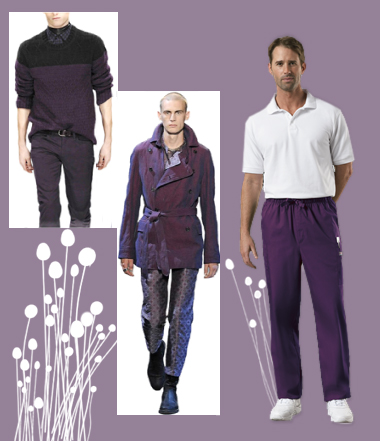 Tornade (French for tornado) is a fine name for a fashion line that caters to the tastes of rugged, adventurous men. Male nurses certainly know what it's like to be confident individualists who do as much hard work as the average ranch hand, what with lifting and turning patients all the time. We think they deserve to show off their great taste in scrubs, too. So, we were thrilled to see eggplant make the cut as a favorite color for spring 2013.
"Modern, androgynous, yet sexy, the collection is keen on its slim cuts, high-quality fabrics and innovative details. The Man BILLTORNADE can be spotted through his elegant innovative feel portraying sophisticated ease." Translated into the scrubs world, this attitude turns unisex into unisexy! Slip on some deep purple scrubs pants and let the rest of the guys at work know they need to up their game to look so suave. We love the layered look sported by the model. You can re-create it with a scoop-neck cardigan warm-up jacket over a scrubs top with a polo shirt underneath.
Gotta Have Some Gucci in Hunter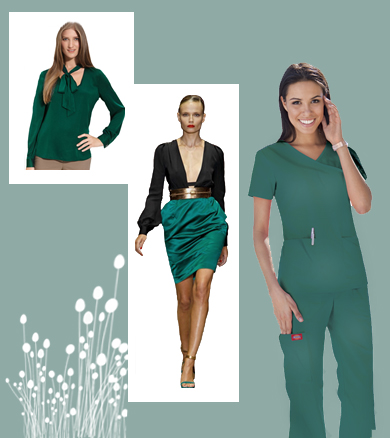 Spring green is usually a light yellow-green that makes you think of defenseless little bunny rabbits. But this spring, hunter green makes you feel like a predator instead of prey. This is the color traditionally worn by actual hunters in the 1800s—and it still looks great today on Gucci models stalking down the runway. We don't recommend a neckline that plunges quite that low, but we love the skirt.
What does Aldo Gucci have to say about buying clothing? "The bitterness of poor quality is remembered long after the sweetness of low price has faded from memory." Fortunately, you can get gorgeous hunter green scrubs in soft, luxurious fabric for an affordable price without sacrificing quality. Pair this hue with other strong shades like burgundy and gold—or go with black for added sophistication. A pale top with flowers that pick up the deep green is also a good choice.
Get Mod on Your Bod in Teal

How much do we love the retro fashion from ModCloth? If you cut us, we bleed vintage. The four stylists who select the "looks" for this trendy, indie online shop seem like women you'd like to hang out and go thrifting with. If you want to look cute as a button and fresh as a daisy this spring, you won't want to miss teal. This year, you'll see this light-hearted hue making a comeback in both streetwear and scrubs. It's a remarkably versatile color—especially paired with white for a crisp effect. We think you might even go retro by matching a teal top with one of those old-fashioned boxer skirts for nurses. You would certainly "s-teal" the fashion spotlight at work!