"You can't be melancholy in fashion because people don't respond to it." —Isaac Mizrahi
We agree. It's time to lighten up your scrubs wardrobe with new prints and let your internal fashionista blossom. Nothings says "springtime" like fresh cut flowers, and nothing puts a spring in your step like fresh scrubs cuts featuring floral designs. The runways are blooming with lovely feminine styles, and there's no reason you can't look just as good as you go about your workday. Here are some of our favorite designer looks reimagined as scrubs for spring 2013.
Garden of Erdem
This British/Turkish style icon stuns on the runway with dreamy, slightly out of focus flower prints that are innocently Victorian without seeming prim or uptight. It's no secret that "real" women love this designer. He doesn't turn his back on those of us who don't look like supermodels. Erdem is quoted in The Guardian as saying, "It's one thing to design a size 8 catwalk dress. It's another to make sure that dress will proportionally fit someone who is a size 16. I think it's great, I'm proud of it."
Since nurses come in all sizes, it's a good thing that scrubs do, too. The Erdem-inspired Fleur Azure scrubs top uses the same optical trick of clustering flowers at the waist to create an hourglass figure and flatter any proportions. Seeing the model on the left wearing gloves in a matching floral print makes us wish medical glove manufacturers created products with fashionable printed designs. We guess you'll just have to settle for blue nitrile gloves that match the flowers on your scrubs top.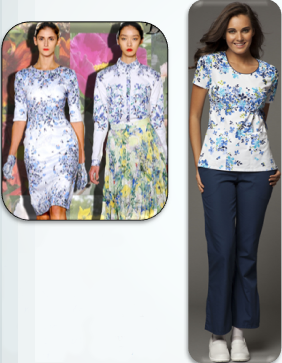 Next: Oppan Gingham Style →