Spring scrubs style that even Mila Kunis would love!
Ugly Duckling or Black Swan?
Mila Kunis catches the eye of fashion photographers in this dress from the Cacharel line by Jean Bousquet. This French designer is the son of a sewing machine salesman and trained at a technical institute as a tailor. It's no wonder he's best known for his "ready to wear" designs that focus on the way modern women really dress from day to day. His first major breakthrough was with a men's style blouse for women back in the 1960s. Today, Jean's fashion house doesn't disappoint with this boyish navy dress featuring bold and flirty prints.
We spotted the same boyish good looks in the Get Growing scrubs top. In 100 percent cotton fabric, you can breathe easy about sweating it at work. The simple scoop-neck cut and black-and-white floral print give this piece a casual look that makes it a go-to staple for workwear. The pop of cyan, yellow and magenta adds a gritty graphic edge that turns this top into a great look for the modern nurse.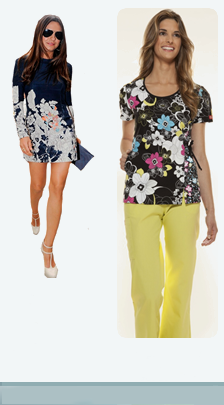 Sponsored by Cherokee Uniforms