The winter solstice is well past and the days are getting longer every day. It's time to stop letting seasonal affective disorder dictate your work wardrobe. No more SAD scrubs! Let your sense of style bloom with these springtime pieces.
Do You Remember When Rock Was Young?
Croc Rock from the Light Up the Night collection infuses a slinky black reptilian print with frosted pink and fuchsia for a feminine look. We think this is much more stylish than the Crocs some nurses regularly wear to work. Would Sir Elton agree?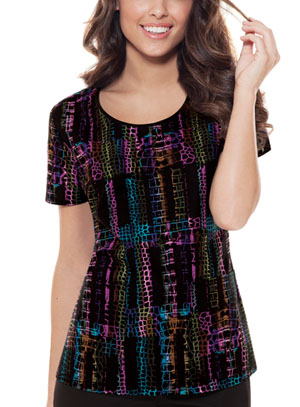 Fancy, Fancy, Tops and Pantsy
When you wear a print scrubs top and matching pants, there is always the risk that you'll look as if you forgot to change out of your pajamas before coming to work. This Trunk Show print gives us a good example of how to avoid that fate. The little blue elephants do scream "sleepwear," but the sharp-looking pocket trim and lined waistband of the pants save this set from appearing childish.