I'll Have a Blue Easter
Actually, you'll feel far from blue when you slip into a Fleur Azure top that evokes the scent of Provence in springtime. It's flowery without being florid or overdone. Pop on this cotton/poly poplin to feel bright and clean without the sterile look of all-white scrubs.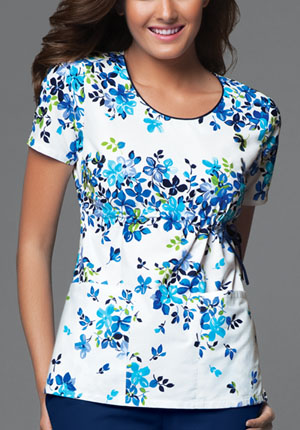 Flirty or Flighty?
We would be remiss not to identify at least one major Paris fashion week "street style" trend that you can imitate in scrubs. J.J. Martin gets props for bringing back the butterfly. This lovely Lepidoptera print brightens a plain navy background with a kaleidoscope of winged beauties. It's a great early spring look when you aren't ready for Easter egg pastels yet.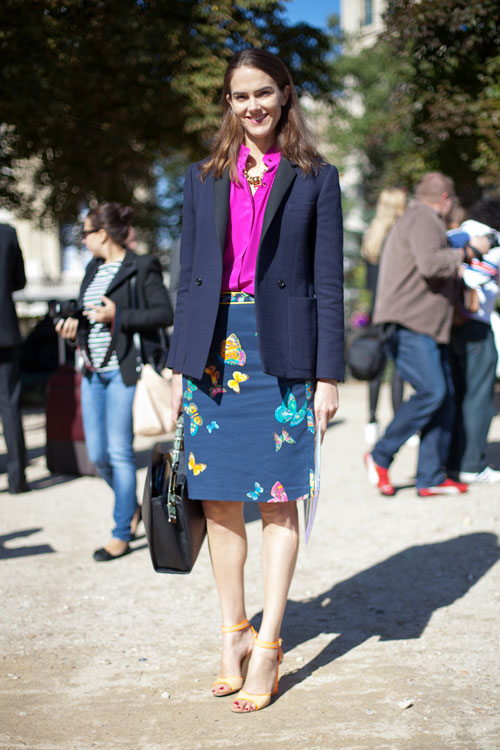 All the major scrubs designers have gone butterfly crazy this season. Here are four different ways to fly:
1. Pen & Ink is more about the cut than the color or the print (which is a little "sketchy"). We think the sweetheart neckline really makes this top. It frames the collarbones like the open wings of a butterfly. Wear this piece with a clip-on badge reel so there's no lanyard to ruin the view.
2. Wings of Love is another great cut, but we actually like the blue monarch print here. Since monarchs are really orange (directly opposite blue on the color wheel), the butterflies appear to be photographic negatives that make the viewer do a mental double take. The asymmetrical neckline with a peekaboo cutout is enticing. We're wondering if the slot is just the right size to hold an ID badge….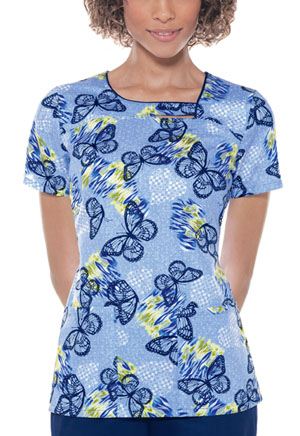 3. Papillon Press carries a message of hope on the wings of a swarm of bookish butterflies. Yes, you do see words like "love" and "heal" on this top. Orchid and turquoise are the obvious color choices for pant colors. But don't rule out lemon yellow or pale gray if you want a cooler overall tone.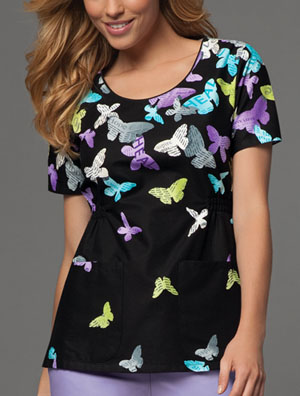 4. Here's another take on the keyhole neckline with the Decorated Wings top. This isn't some delicate depiction of the butterfly theme—it's an example of what these gossamer insects look like when they mean business. We see this piece paired with an aqua headband or a bright scrubs cap for a bold fashion statement.
Sponsored by Cherokee Uniforms