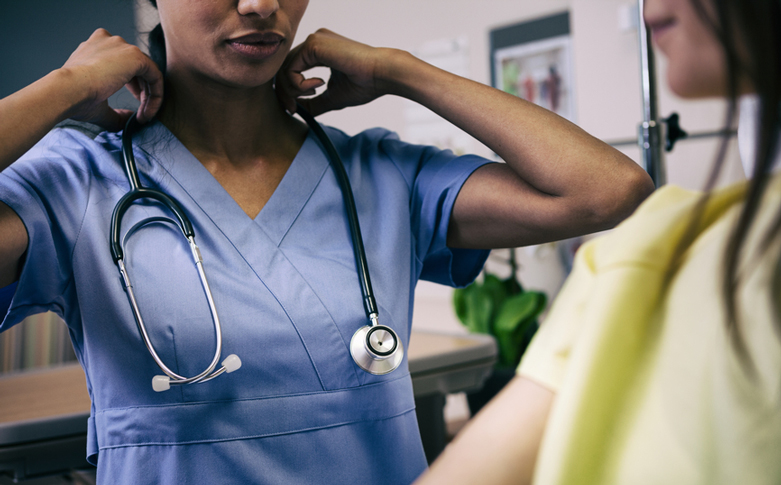 Image: Stocksy | Sean Locke
When we heard about new digital stethoscope attachment from Eko Devices, it got us thinking about all the accessories available for stethoscopes, and whether this particular one could be the next accessory you'll find yourself with at all times.
The accessory, called the "Eko Core," is an attachment that connects to your current steth then talks to software on a smartphone or tablet. It can then track and log heartbeat sounds, as well as amplify them. The company's HIPAA-compliant database stores your patient's log and attaches it to electronic health records.
You can't get your hands on it yet, though. Right now, they're performing a clinical study where its results are compared to EKG results to see how similar the devices are.
"What's really exciting is it has the potential to make internists and nurse practitioners and other types of providers into cardiologists," Dr. John Chorba, who is leading the study, told Forbes. He said that if the study shows that the readings from the Eko device are similar to the EKG, then the Eko may be used in the future of clinical practice to determine which patients need an EKG.
The Eko isn't the first digital device created to amplify and track heartbeats. For example, 3M Littmann has a couple of models of electronic stethoscopes that work in a similar way, but are standalone devices.
While we wait for it to hit the market, we can bling out our steths with a stethoscope cover (or the padded one included here, or choose from these 13!) For extra bling, think about adding a charm chain.
While all of these are great ways to personalize (and protect) your stethoscope, we do have to pose the question: Is there a such thing as too much bling around your neck? At what point does your steth take on so many accessories that you begin to look ridiculous and you should probably just keep some of those accessories in your pockets? Let us know what you think in the comments!