On October 1, 2017, a lone gunman fired more than 1,110 rounds of ammunition into a crowd of concertgoers at the Route 91 Harvest Music Festival in Las Vegas, Nevada. It was the country's deadliest mass shooting to date, with 58 killed and over 850 injured.
To recognize the second anniversary of this tragic event, Scrubs Magazine invited some of the survivors, witnesses, and caregivers of Las Vegas to share their stories. Follow it here and on our Facebook and Instagram, to read their accounts of that fateful day, in their own words.
---
Amy Cope, RN
I remember that night. I was running on less than five hours of sleep, which was the norm for me. I was a full-time Emergency Room Tech and a full-time nursing student at the same ER where I now work as an RN.
It started the same as any other night. A paramedic was chatting with us at the desk like many had done before. Then something came over the radio. We didn't believe it at first. A mass shooting, here? Now? But our team stepped into action.
Doctors and mid-levels told us what supplies we needed to get out, and we tried to prepare in the little time we had. Within 10 minutes our first shooting victim arrived through the lobby. A Good Samaritan was doing CPR on his lifeless body and his wife followed behind him covered in her husbands' blood. I will never forget the look on her face as she sat in front of the desk as the rest of the victims poured into our ER. He didn't make it.
Like many. I was responsible for running the ER as best as could, as my charge nurse was taking care of patients and their families. I called every doctor and surgeon I knew and asked them to help. Every single one of them said yes. People from every department showed up to help in any way they could. Off duty nurses and techs showed up to lend their services.
One of our nurses was at the festival, and hopped in an ambulance and came to work. My director called me every five minutes as she rushed to work, assuring me I was doing the right thing and guiding my every move. I could go on and on about the bravery I saw that night about how EMS tirelessly dropped off patients and rushed to get another, about how people of all race, color, creed, and title stepped up to the plate without hesitation.
THESE ARE THE ONES I CHOOSE TO REMEMBER. I will not remember him. As much as I never wish this experience on anyone else, I am honored to have served next to every nurse, tech, RT, CNA, doctor, PA, Registrar, paramedic, EMT, firefighter and police officer. This is what we do. Blessed are those who run towards the chaos. I saw the work of God that night.
I wear this shirt because I have a deep love for my city and this team that brought us closer together after October 1. We will always be VEGAS STRONG. EVIL WILL NEVER WIN, even in the City of Sin.
---
Jamie Cope, nursing student
It was my first time ever at Route 91, which is surprising because I'm a Vegas native. I went with my coworker Brittany, and we met two really nice guys who we agreed to meet in the center stage for Jason Aldean. One distinct memory I have was the opening song, "In the Air Tonight" by Phil Collins. I remember how eerie I thought that was.
A few songs in, we started hearing "fireworks," although there was nothing to be seen. A man standing next to me immediately said, "Those are not fireworks!" and that we needed to get down. We laid flat on our stomachs with our hands over our heads, and I just kept repeating "it's ok, it's ok, it's ok."
A man behind me was shot, and his wife was screaming for help. A random coincidence: seeing a high school friend directly in front of me. She turned around and told us to all run. As we got up to run, another man behind us was hit. It was a pure nightmare. Jumping over people, people screaming for help, not knowing how to help, hiding when the gunfire began again, running when it stopped. I remember just praying "please don't let it hurt."
We eventually got through the maze of trailers, hopped a wall, leaving our shoes behind and ran. We ran all the way to the Excalibur and hid between two cars. It was there that I noticed I had dropped my phone at the festival. I instantly knew my friends and family were worried since most have my location, and can probably see that my phone is not moving within the festival.
Brittany's phone wouldn't call out, all the lines were jammed. It took about an hour to reach someone, and I told them to call our moms and let them call everyone to let them know we are safe. We eventually ran inside to an Excalibur bar where we were the ONLY route 91 attendees. Everyone else just seemed confused and angry why they couldn't go on the strip. It was there my friends began calling my friends phone to tell me of multiple friends who had been shot, all alive at the moment.
It was because of that fateful night that I wanted to become a nurse. The guilt I still feel about leaving people behind, not knowing how to help, will stay with me forever. I instantly looked into nursing school and hope to one day make it into the trauma center. So in case something like this happens again, I'll be ready.
---
Cindy Hey, RN, Clinical Supervisor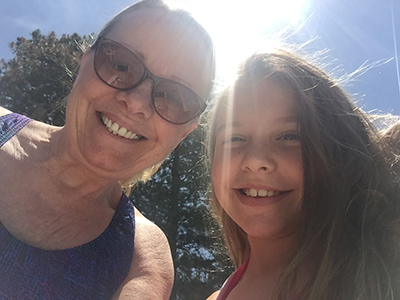 I woke up at 0400 on October 2, like every workday. My husband was already up with the TV on. I saw what had happened, hurried to get ready for work and on the road. I live 45 miles from Desert Springs Hospital, my employer since 1990. I'll never forget approaching the Las Vegas Strip and the barricades blocking entry. Beyond them were police and emergency vehicles. Red, white and blue beacons were all I saw. Very spooky feeling.
I arrived at work and was the Clinical Supervisor on the first floor. The atmosphere was heavy, chilling. There were many victims admitted to our unit. So many family members and friends of these victims. Making rounds on all the patients was very emotionally difficult. Seemed every room had coverage of the shootings blaring from their TVs. Hearing the gunfire again and again, and wondering how these people could bear to listen to it. A nightmare replaying over and over.
I recall very little of the rest of that day. But I remember how the hairs on my body stood on end; and having to hold back tears for weeks after that awful day.
Leaving work that day, I drove down the strip, saw the windows that had been broken at Mandalay Bay, the blocked-off area where the music festival had taken place. The Welcome to Las Vegas sign had started to become a shrine. One of the hotel billboards was lit up with the words VEGAS STRONG. I don't usually travel that route from work. I had to that evening. It was surreal. Very emotional for a long time. I can't even imagine how my co-workers who were there treating these human beings deal with their memories. To this day, it seems like a really bad nightmare.
---
Cassandra Ramos, nursing student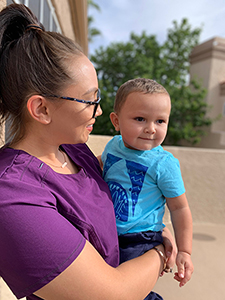 It was 10 pm, I was 8 months pregnant, lying in bed next to my husband when all of a sudden his phone rings. It's his police sergeant, all I heard was "There's active shooters on the strip and everyone has been activated."
My heart dropped as I watched him get out of bed and quickly put on his police gear. He kissed me and said "I gotta go babe, I'll text you when I can." That was it, all we knew was that there was an active shooter on the strip and possibly more than one. I sat up in my bed crying in confusion and I was so scared. Slowly more and more details were coming out. We knew there was a shooting at the Route 91 country festival but at the time they couldn't confirm where the shots were coming from.
My heart was racing 100 miles per hour. Our city was under attack and my husband was walking right into the line of fire.
I texted all my friends that I knew went to the concert, praying and praying that they were ok. I texted all my friends who are also police wives and we all were in tears and just so scared. Hours later there were reports of a broken window in the Mandalay Bay and that they confirmed that's where the shooter was. Law enforcement and special op teams began to tactically approach the Mandalay Bay.
Concertgoers were on Facebook Live recording the whole mass shooting. People were running and screaming. Many were injured and some were dead. A lot of the concertgoers lost their phones and had no way to contact family. The scene looked like a war scene, blood everywhere, people who had been shot were limping to safety. People were literally jumping over dead bodies to get to a safe location. Some were pulling up to the concert with their vehicles taking random injured people to the hospital.
Some of the concertgoers were nurses, doctors, EMTs, and paramedics, and literally began triage on the concert floor. They did everything they could to try and preserve life. The night went on into early morning. Local citizens began bringing food and blankets for the victims who literally had nothing on them.
Blood banks were completely packed, hours and hours of wait time to donate. So packed that they had to turn people away. They asked the locals to make appointments throughout the week.
Vegas came together like nothing I've seen before. I began to brainstorm what I could do. I wasn't a police officer, I wasn't a nurse yet and I was very much pregnant. But I so badly wanted to help.
I immediately thought of what I would need to do if this happened to me. I would want to notify my family, and I don't know about you, but I do not remember my family's phone numbers by heart. I can tell you that I never have brought a phone charger with me to a concert. I knew the hospitals probably sell phone chargers but they only carry so many and this concert had over 100,000 attendees.
I began reached out to phone stores around the city, and finally got a hold of the district manager for Sprint here in Las Vegas. I asked if there was any way he could donate phone chargers to the victims. He jumped right on board and emailed me a list of all his stores and said I could take all the phone chargers he had.
He sent me 23 stores and said each store should have about 100 phone chargers. I knew I couldn't get to 23 stores by myself, I needed a team. I put out a call for help on Facebook and immediately had my dream team. I split up the stores to where everyone lived and we began our mission to collect 2000 phone chargers.
It took a few hours but we did it. Each time we delivered the chargers, the nursing staff immediately fell to their knees and cried and thanked us. They said that we had no idea how helpful this would be to the victims. Blankets and food were great, but what the victims wanted most was to contact their loved ones and tell them that they're alive and OK.
The day went on and the death count was going up. Our city was attacked, but Vegas never came together in such a strong way and I am so proud of our city. From that day forward we became VEGAS STRONG. We will never forget those that lost their lives and we will honor them forever. We will not let a random act of violence destroy our city.
---
Tasha Edwards, Las Vegas native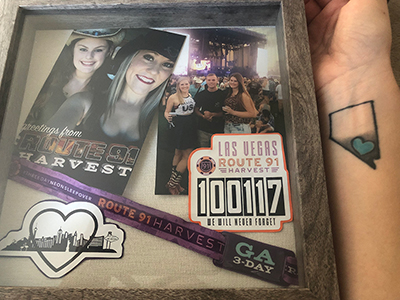 While I won't ever forget the horrible act that occurred, I also don't want to forget the priceless memories that I shared in those same spots that year and all years previous.
Weeks after the shooting, I got my tattoo. Not only was I born and raised and very proud of my hometown; my pride only increased when we showed the world what really happens in Vegas by rallying together and loving one another.
The shading is there to represent hope coming out of the darkness, and I was wearing teal that night. The most important message we want to continue to send is that hate never wins and love conquers all.