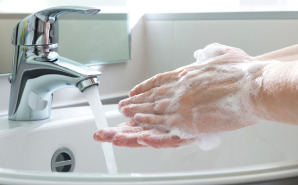 iStock | AlexRaths
Recently we asked if new technology can (and should!) be used to shame doctors and nurses into washing their hands. But what about patients?
A new study shows patients don't wash their hands enough, which, of course, may increase the chance of infection.
The research looked at nearly 300 patients in multiorgan transplant units in a Canadian hospital. The study shows that patients washed their hands only about a third of the time in the bathroom and 40 percent of the time at meals, according to HealthDay. Additionally, patients washed their hands 3 percent of the time they entered their room, and 7 percent when leaving.
"This is important because getting patients to wash their hands more could potentially reduce their risk of picking up infections in the hospital," said principal investigator Dr. Jocelyn Srigley.
Srigley also said that patients in the study were not informed about hand hygeine, and that educating patients may be the key to better hand-washing habits.
"We can't expect patients to know when to wash their hands if we don't inform them, so it's not surprising that they wash their hands infrequently," she said. "In particular, for washing hands when entering and exiting their room, it's not something that I would expect patients to think of doing unless they were educated and reminded to do that."
Does your hospital have a hand-washing policy? What about for patients? If so, do you think it's helping control infections? Let us know in the comments below!