Sponsored by Cherokee Uniforms, Dickies Medical and Anywear Footwear
As you know, the number of men working in the professional field of nursing has increased dramatically. As one of them, congratulations for choosing a rewarding career. The stigma that only women make good nurses is gone.
Just like female nurses, you have incredible opportunities. Also, like for women, it is important that you wear the appropriate attire. Not only are scrubs comfortable and easy to clean, they can also be fashionable. With the variety of scrubs now available, you can show off your personality while remaining professional.
The right nursing attire will help boost your morale and that of your patients. As a prime example, a male nurse working in pediatrics can don scrubs with vibrant colors, unique designs, and even cartoon characters. The minute he enters the hospital room, the overall atmosphere changes, evident by the smile on a child's face.
Something as simple as fashionable scrubs puts even the shyest or sickest child at ease, making him or her more receptive to care. Before long, the scrubs build a gap between the nurse and patient that creates a trusting relationship. From the perspective of the nurse, patient, and the patient's family, what is otherwise an unfortunate situation becomes more tolerable and even fun. As a male nurse, you can swap out your standard blue or green scrubs and get into something that makes a positive statement.
Scrub Tops
Start by choosing scrub tops explicitly designed for male nurses, so they fit perfectly. You have incredible choices, whether a bright color, crazy design, or distinct graphic. Your patients will feed off the positive vibe. Check out this great Spiderman v-neck from Cherokee Uniforms.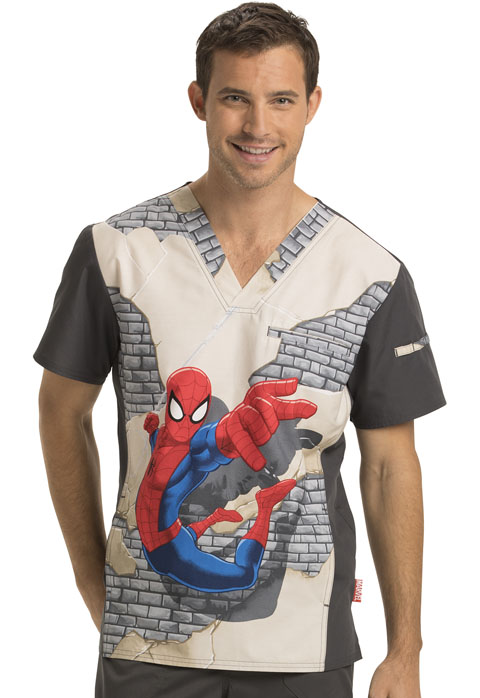 Wearing scrub tops like these brings a smile to the faces of all your patients, not just children. For instance, if you care for an elderly patient who is away from family, there is a good chance that person feels scared and perhaps confused. By putting on a scrub top in a bright color or cheerful design, that individual will respond favorably to you and your care.
Scrub Pants
Just as with tops, you have many excellent choices for scrub pants, also made to fit a male's body. Whether you prefer bright colors and fun designs, you can choose scrub pants and tops to match or mix things up. You can even select tops and pants that have a more athletic look. For example, a pewter gray V-neck scrub top with colored stripes on each sleeve and small zipper detailing looks fantastic when paired with matching pants. Dickies Medical has a great selection of functional, comfortable, and good-looking pants for men.
Both the tops and pants have pockets, making it convenient for you to carry items that you need throughout your shift. Although some male nurses prefer "manly" colors, including pewter, black, Caribbean blue, navy, and royal blue, nothing holds you back from wearing wine, cosmic pink, vibrant coral, white, or ciel, which is a light bluish purple.
Just because you work as a male nurse does not mean that you must stick with traditional masculine colors. In your role, you can wear whatever makes you and your patients happy.
Jacket
If you have ever been in the hospital as a patient, you know that the room temperature is often cool. Although most nurses become accustomed to working in cooler temperatures, you may be someone that does not deal well with those environments. Especially if you work in or around an operating room, the temperature gets downright chilly.
To keep warm yet still look great, you can choose a lightweight jacket that either matches or coordinates with your scrub tops and pants. When made of a high-quality material, it will last a long time and clean easily, so that you always look your best. With a zippered front, you can quickly put your jacket on and take it off as needed.
Footwear
For comfort, safety, and sterility purposes, you need to wear the appropriate type of shoes. Considering that you work on your feet a lot and do a tremendous amount of walking throughout your shift, not only do you want comfort, you also want shoes that you can easily slip on and off.
Injected clogs are an excellent option, and Anywear is the best place to get them. Available with or without a backstrap and in a broad range of colors, styles, and patterns, you will have no problem finding what you like. You can even make a fashion statement by choosing footwear that coordinates with or complements your scrub tops and pants. Even better, some of these shoes have antimicrobial, memory foam, and slip-resistant qualities.
The Best Source for Nursing Attire
For scrub tops, pants, jackets, and footwear, check out all of these sites: