Scrubs is proud to be linking up with Warriors in Pink, Ford's campaign to fight breast cancer with stories of hope.
Looking for some new scrubs for the fall and winter? Check out these gorgeous breast cancer awareness scrubs that give back and promote an important cause! A joint collaboration between Cherokee Uniforms and Warriors in Pink, these scrubs tops are a great way for nurses to show support to their patients, friends, family and other loved ones throughout October and the rest of the year.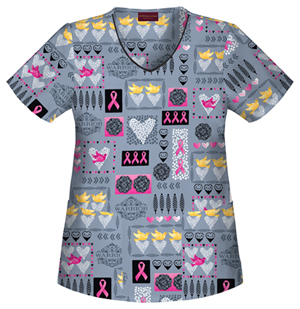 This printed gray V-neck top is perfect for the nurse who only fancies a pop of pink. Featuring the famous pink ribbon, it's also decorated with hearts and birds. The cut has front neck piping, bust darts, front patch pockets, back darts and side vents.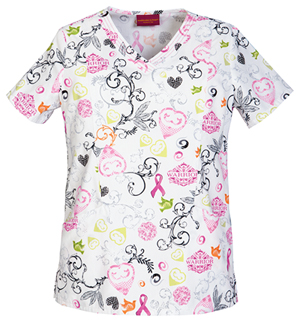 This white-background V-neck top has a certain French quality to it, and we love the sense of whimsy and bursts of different color throughout (orange, green, black). It will pair well with lots of different pants, and is busy and fun without being overpowering. The cut features princess seams and two front pockets with back darts and side vents.
If you prefer your prints to come in a black background, check out this classic black and pink top featuring the famous ribbon, birds and hearts. A small amount of green gives you the opportunity to sport a truly original look (green pants, anyone?), but you can also keep it classic with black pants. The V-neck features front neck piping, bust darts, front patch pockets, back darts and side vents.
Warriors in Pink scrubs are available for ordering from your favorite uniform retailer. Check out our scrubs store finder and get shopping!
Sponsored by Cherokee Uniforms